In this extract from February 1988, Charles Beare recounts the instruments and bows played by cellist Jacqueline du Pré, including the 1712 'Davidov' Stradivari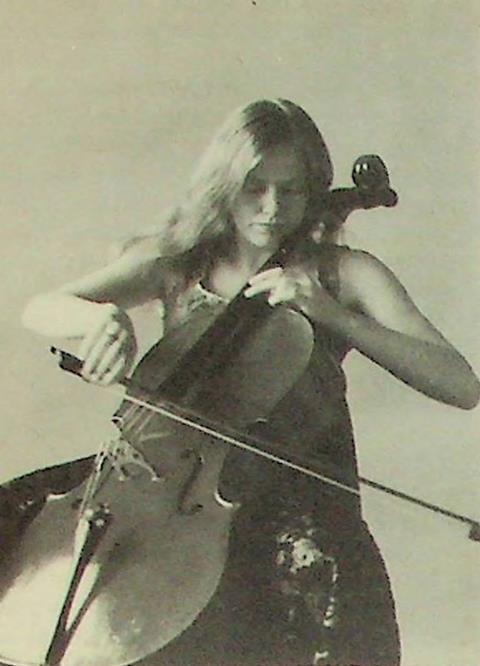 The following is an extract from the article 'Long read: Remembering Jacqueline du Pré' from February 1988. To read the full article, click here
Even without her cello, Jacqueline du Pré was a very special person when I first came to know her in the early 1960's, radiant yet shy, strong in personality yet never demanding, warm-hearted, beautiful, as English as Elgar's music. None of this ever changed, not with her rise to international celebrity, nor during the black times at the onset of her illness, nor in her last years of patient suffering. 'I hate multiple sclerosis' was the nearest I ever heard to a complaint.
As William Pleeth said recently, she always gave more than she received. During the main part of her career she used four cellos, the first a Stradivari of the early period, owned in recent years by Lynn Harrell. At the end of 1964 the 'Davidov' Stradivari of 1712 was brought over from New York for her to see, and she fell in love with it instantly. Although the love never faded, the relationship turned out to be less than perfect, in part because Stradivari instruments are not always suited to quite such forceful playing, and to quite a large extent because the importance of constant humidity was not appreciated twenty years ago. Nevertheless, when both cello and player were on their best form the combination was a sublime one.
Sometimes Jackie would telephone cheerfully from some distant part of the world with the news that she was just off to a rehearsal and the 'Davidov''s strings were lying flat along the fingerboard, or some similar problem, and was there anything she could do about it, or did I know a violin maker in the town where she was? Once she rang up from behind stage just for a chat as she was about to go out and play, but I doubt if I was very encouraging as she had forgotten about the time change, and in England it was two o'clock in the morning, On her return from those distant trips we would glue the cello up, replace the last half-dozen hairs of her bow and carry out soundpost adjustments. I never heard such an expressive player: she would linger on one note for two long minutes, playing with such variety that one might have been hearing a whole composition.
One day about 1968 there was no time to cure the 'Davidov' before Jackie's departure to play in Milan, and we lent her a Francesco Goffriller which she subsequently acquired. This was her regular companion for the next few years, and was used for many of her recordings. Finally a cello was made for her by the Philadelphia maker Sergio Peresson. Probably the perfect instrument would have been one of the great Montagnanas, a cello able to turn tremendous, exuberant bow pressure into fortissimo sound, but none came her way at the right time.
She had two preferred bows, a John Dodd and a Louis Panormo. The second was acquired in 1966, when a car door blew shut and destroyed the first. When watching film of her most sensitive playing it is hard to believe that with its rubber grip the Panormo weighed well over a hundred grams.
The late 1960's were especially happy times, first with Jackie's marriage to Daniel Barenboim, and then through the musical association that they both had with Itzhak Perlman, Pinchas Zukerman and others. Quite apart from the concerts and the recordings there were chamber-music parties with friends, and life's possibilities seemed unlimited. Then came the first problems, and in due course diagnosis of the disease that ended the brilliant cellist's career.
For the last years of her life Jackie's greatest pleasure was in sharing her recordings with the friends who visited her. Her urge was always to perform music, and with her mind and ear unimpaired despite her useless body, listening to her own records or watching Christopher Nupen's film of her provided a bearable substitute. That her later life was tolerable in other respects was due to Daniel Barenboim's support, and to Ruth-Ann Canning's devoted and expert care during eleven increasingly difficult years. Charles Beare
Read: Yo-Yo Ma on playing his 1712 'Davidov' Stradivari cello
Read: Janine Jansen: Twelve chosen Stradivaris
Read: New study reveals the wood treatments used by Stradivari, Amati and Guarneri