In this excerpt from The Strad's January 2018 article, 'The Great Connector' the renowned cellist Yo-Yo Ma talks about performing on his 1712 'Davidov' Stradivari, previously used by Jacqueline du Pré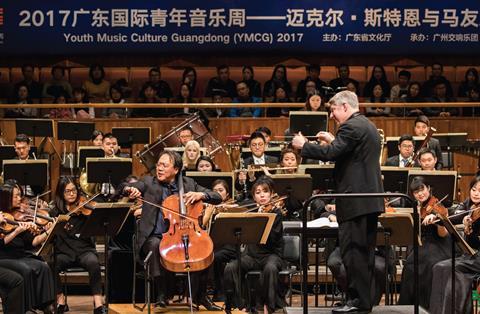 'I have been playing the 1712 'Davidov' Stradivari in most of my performances and recordings recently. It's naturally a tenor instrument, but has been deepening noticeably in the past few years.
'Jacqueline du Pré, who played the instrument before me, famously described it as 'unpredictable', but I don't think that's the case. Jackie was a meteorite, the ultimate shooting star, whose life and energy came out through her playing.
'But according to Charles Beare she would come back from a tour and would need the cello glued back together again. The fingerboard would go up and down with the humidity, so the strings would be too low or too high. Of course, you always have to mould yourself to the instrument – it's like riding a horse, a collaboration – and you absolutely have to work with it. There's a point where, if you force too much, you will get less in return. That's probably true of a lot of instruments, but with Strads in general you have less leeway.'
Read: Janine Jansen on playing twelve Stradivari violins
Read: Janine Jansen: A spiritual connection
Read: From the Archive: the Stradivarius 'Barjansky' cello, 1684
Listen: The Strad Podcast Episode #11: Jesus Rodolfo's 1696 'Spanish Court' Stradivari viola copy