Sergey Dogadin and Zlatomir Fung take the violin and cello crowns in Moscow and St Petersburg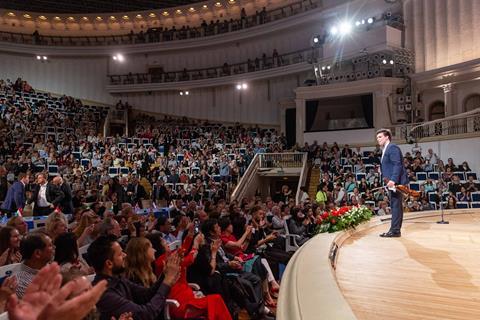 The Tchaikovsky International Competition has announced the winners of its 2019 edition across all categories. It's violin and cello winners are:
Violin
1st prize Sergey Dogadin (Russia)
2nd prize Marc Bouchkov (Belgium)
3rd prize Donghyun Kim (South Korea)
=4th prize Mayumi Kanagawa (US)
=4th prize Aylen Pritchin (Russia)
6th prize Milan Al-Ashhab (Czech Republic)
Cello
1st prize Zlatomir Fung (US)
2nd prize Santiago Cañón-Valencia (Colombia)
3rd prize Anastasia Kobekina (Russia)
4th prize Taeguk Mun (South Korea)
5th prize Yibai Chen (China)
6th prize Senja Elina Rummukainen (Finland)
Held every four years and now in it's 16th edition, the competition also has piano, woodwind, brass and voice sections.
First prize winners in each instrument category will be awarded $30,000 each and from these a Grand Prix recipient will be awarded an additional $100,000, to be announced on 29 June during the winners' gala concert at the New Stage of the Mariinsky Theatre in St Petersburg.
Second prize winners take $20,000 and silver medal, and third prize $10,000 and bronze medal; fourth to sixth places win $5,000, $4,000 and $3,000 respectively.
Sergey Dogadin, 30, whose final performance included Mozart's Violin Concerto no.3 in G major and the Tchaikovsky Violin Concerto, came second in the 2011 Tchaikovsky Competition, in which no first prize was awarded.
He graduated from the St Petersburg State Rimsky-Korsakov Conservatory (classes of Professor Vladimir Ovcharek and Professor Andrei Dogadin); studied at the International Menuhin Music Academy (IMMA) with Maxim Vengerov (2012); completed his postgraduate course at Hochschule für Musik und Tanz Köln (class of Professor Mihaela Martin) and the University for Music and Performing Arts Graz (class of Professor Boris Kuschnir). He continues to study with Kuschnir, who was on the Competition jury, at the Music and Arts University of the City of Vienna.
He has previously won the Joseph Joachim International Violin Competition in Hannover (first prize) and the Singapore International Violin Competition (first prize). He plays a 1721 Domenico Montagnana violin.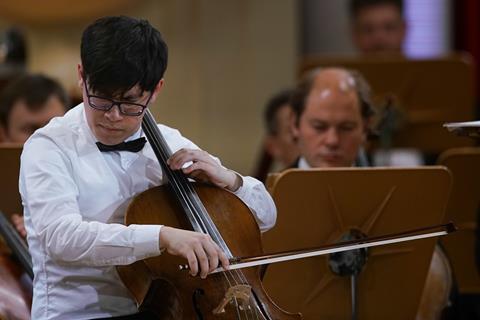 Zlatomir Fung, born in the United States in 1999 of Bulgarian-Chinese heritage, currently studies with Richard Aaron and Timothy Eddy at the Juilliard School. He was a first prize winner of the 2017 Young Concert Artists International Auditions, and made his recital debuts earlier this year in New York and Washington, DC.
He has also won first prizes at the Schoenfeld International String Competition, George Enescu International Cello Competition, Johansen International Competition for Young String Players, Stulberg International String Competition and Irving Klein International Competition.
For details on the other sections of the competition, visit https://tch16.com/en/news/
Videos of all the performances are available to watch here https://tch16.medici.tv/en/replay/