The 29-year-old Russian violinist wins $50,000 top prize, performance opportunities and the loan of a fine instrument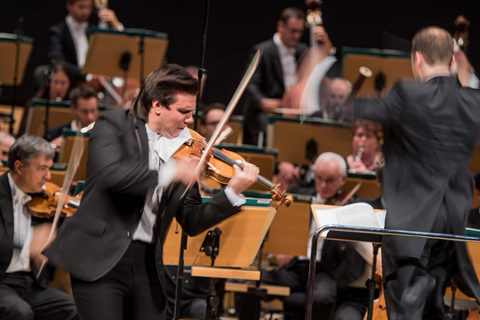 Sergei Dogadin, 29, has won the Singapore International Violin Competition with his performance of the Tchaikovsky violin concerto. He receives a cash prize of $50,000, international performance opportunities and a three-year instrument loan from the collection of Mr & Mrs Rin Kei Mei.
Dogadin, from Russia, has significant previous compeition successes, including at the 2011 Tchaikovsky Competition (second prize and audience prize), the 2015 Joseph Joachim Competition, Hannover (first prize) and second prize at the first Shanghai Isaac Stern Violin Competition in 2016.
He is currently studying at the Music and Arts University in Vienna with Boris Kuschnir, who was on the competition jury.
The competition, which began with 30 competitors in its first round on 28 January at the Yong Siew Toh Conservatory Concert Hall, brought six musicians through to the finals at the Victoria Concert Hall on 5 and 6 February, and three for the grand final and awards ceremony at the Esplanade Concert Hall with the Singapore Symphony Orchestra on 8 February.
The following awards were also made:
Second Prize: Chisa Kitagawa
Third Prize: Oleksandr Korniev
Fourth Prize: Laurel Gagnon
Fifth Prize: Lisa Yasuda
Sixth Prize: Xiaoxuan Shi
Audience Prize: Chisa Kitagawa
Best Performer of Commissioned Work: Luke Hsu
Best Performance of Bach: Elly Suh
Best Performance of Paganini Caprice: Sergei Dogadin
Goh Soon Tioe Violin and Piano Recital Prize: Sergei Dogadin
Master Bow by Pierre Guillaume awarded to Best Singaporean Performer: Gabriel Ng
Watch: the full Grand Final with the Singapore Symphony Orchestra