Violinist Viktoria Mullova talks about her new Schubert album, and reveals her unexpected creative inspirations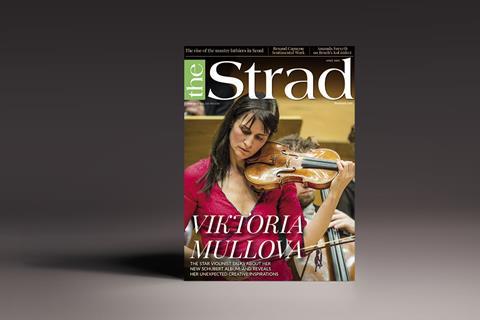 Viktoria Mullova: The violinist discusses her latest Schubert recording with Toby Deller, as well as her collaborative projects with friends and family, and her love of improvisation
Paul Makanowitzky: The long-time teaching assistant of Ivan Galamian was a talented violinist in his own right. David Hays talks to former students to explore his life and career
Violin making in Seoul: Luthier Hagit Gili Gluska finds out how, in just a few years, the Seocho area of Gangnam has become a mecca for instrument makers from around the world
Session Report: Robin Stowell talks to Richard Boothby of British early music group Fretwork about the ensemble's recording of fantasias for viol consort by Thomas Lupo
Pietro Castrucci: Based in London, the 18th-century composer wrote a great deal of music, now almost completely forgotten. Gerald Elias explores his life and legacy
August Rau: The German bow maker was one of the last to uphold the 19th-century ideals of independent craftsmanship. Gennady Filimonov examines several of his bows
In our regular sections:
In Focus: A 1911 cello by Camillo Mandelli
Trade Secrets: Michael Doran presents his technique for making 'Hill-style' saddles
My Space: Double bass maker George Martin
Making Matters: The secrets of Stradivari's moulds that are hidden in plain sight
Masterclass: Cellist Amanda Forsyth discusses playing Bruch's Kol nidrei
Technique: British violist Martin Outram gives tips on developing bow control
Life Lessons: Astrid Schween, cellist of the Juilliard Quartet, reminisces about her teachers
Opinion: How the fallout from the pandemic has affected practitioners of early music
Postcard from Dublin: A report from Spike, the Irish capital's alternative cello festival
From the Archive: From May 1932
Sentimental Work: Renaud Capuçon on his love of Brahms's Violin Sonata no.1 in G major
We also bring you news of the latest products and auctions, plus our regular analysis and opinion columns, and comprehensive reviews of concerts, recordings and books. Simply go to the current issue to explore the full content listing.
Plus, in your May digital edition…
Read Viktoria Mullova's thoughts on her latest recording of Schubert, accompanied by audio clips from the album
View extra images from Spike, Dublin's alternative cello festival, including performances by Adrian Mantu, Aki, Martin Johnson and Eimear Reidy
Pietro Castrucci: Examine some of the 18th-century manuscripts of the enigmatic 18th-century violinist and composer, as well as clips from the most recent recording of his work
My Space: more images from the English country workshop of double bass maker George Martin
Extra photos from the American String Teachers Association's 75th anniversary celebrations
View more from Anne-Sophie Mutter's acclaimed concert for Ukrainian refugees
And, as regular as clockwork, clips from the three recordings this month honoured with that illustrious appellation 'The Strad Recommends'
The digital magazine and print edition are on sale now, or subscribe to access the entire magazine online here.