We take an close-up look at a 1671 violin by Girolamo Amati II - the last and least-recognised maker in the illustrious lutherie dynasty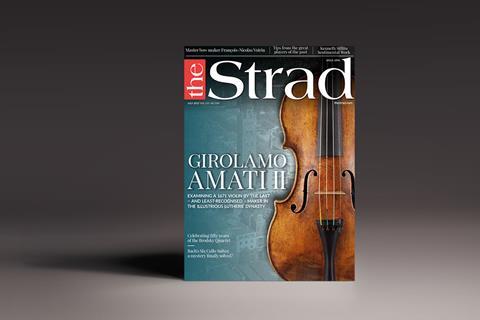 Girolamo Amati II Violin 1671: The last of the Amati dynasty was an almost exact contemporary of Stradivari. Barbara Meyer examines one of his early instruments, alongside one from 1719
Brodsky Quartet: Marking its 50th anniversary this year, the British group has had a colourful career embracing classics and new works. Amanda Holloway meets the foursome
Bach Cello Suites: Jeffrey Solow looks at the several sources for the composer's famed solo works, to advance a new theory as to the genesis of his compositional process
Session Report: The members of the Heath Quartet talk to Toby Deller about their recording of works by Berg, Schoenberg and Webern, all part of the Second Viennese School
Lost Arts of String Playing: Some of today's top players tell Charlotte Gardner how they incorporate the stylistic techniques of the 20th century's greatest soloists into their own playing
François-Nicolas Voirin: Matt Wehling presents the first of two articles about the French bow maker, whose work had an enormous influence on the bows of the 20th century
In our regular sections:
In Focus: A 1762 Gennaro Gagliano violin
Trade Secrets: Bow maker Éric Gagné on designing and making a ferrule
My Space: Elisa Scrollavezza and Andrea Zanrè
Making Matters: Rainer Beilharz presents his data sheets for recording acoustical observations
Masterclass: Cellist Antonio Meneses discusses the fourth movement of the Franck Sonata
Technique: Violinist David Gillham give hints and tips on achieving perfect string-crossings
Life Lessons: The memories and opinions of Taiwanese violist Hsin-Yun Huang
Opinion: Why tutors should look beyond the standard grading system in their teaching
Postcard from Cornwall: Report from the 50th anniversary of IMS Prussia Cove
From the Archive: From July 1932
Sentimental Work: Violinist Kenneth Sillito on the first string quartet Britten ever wrote
Print subscribers also receive a poster of the Girolamo Amati II Violin 1671.
We also bring you news of the latest products and auctions, plus our regular analysis and opinion columns, and comprehensive reviews of concerts, recordings and books. Simply go to the latest magazine to explore the full content listing.
Plus in your July digital edition:
View more photos of the c.1714 'Da Vinci, ex-Seidel' Stradivari violin, auctioned by Tarisio in June
Read about the Heath Quartet's latest recording of works from the Second Viennese School, while listening to clips from the album
More from the Dresden Music Festival's 'Long Night of the Cello', which included performances by Sheku Kanneh-Mason, Jan Vogler, Johannes Moser, David Geringas and many more
Look around the well-appointed Parma workshop of Elisa Scrollavezza and Andrea Zanrè in My Space
More archive images of the Brodsky Quartet, including photos from the years when Andrew Haveron and Daniel Rowland were first violinists
James Ehnes' well-received Carnegie Hall performance of the Korngold Concerto receives extra photos, including a surprise appearance by Philip Glass
And, as constant as the coming dawn, clips from the trio of recordings exalted with that laudatory denomination: 'The Strad Recommends'
The digital magazine and print edition are on sale now, or subscribe to access the entire magazine online here.