The musicians of the Tetzlaff Quartet discuss recording their first Beethoven album after 25 years together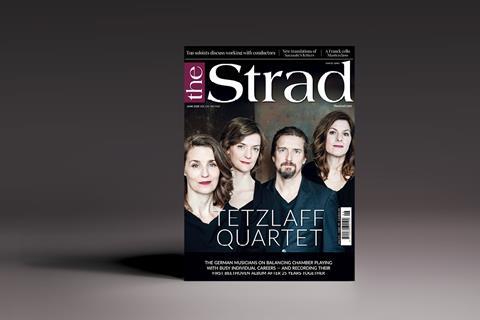 TETZLAFF QUARTET: The four members give Tom Stewart their thoughts on Beethoven's late works – and why it's taken 25 years for them to record any pieces by the composer at all
AN AMATI MYSTERY: Could a cello bearing the decoration of the famous 'Charles IX' instruments by Andrea Amati be genuine or a clever fake? Filip Kuijken examines the evidence
SOLOISTS AND CONDUCTORS: Relationships between the musician and the maestro can often be a minefield. Three players and one conductor relate their experiences to Charlotte Gardner
SARASATE LETTERS: Nicholas Sackman and Bastien Terraz examine the correspondence from the violinist to his adoptive mother during his two-year tour of North and South America
NAPOLEONIC BOWS: Several examples from the court of Napoleon III still survive – and two from that of his uncle, Napoleon Bonaparte. Gennady Filimonov explains their significance
In our regular sections:
In the issue's Masterclass cellist Henri Demarquette discusses the first two movements of Franck's Sonata; in Technique violist and Sydney Conservatorium professor Roger Benedict speaks about viola scales; US violinist Nathan Meltzer discusses his formative years in Life Lessons; plus in Sentimental Work Steven Isserlis shares his impressions of Beethoven's Cello Sonata no.4. Our Postcard this month comes from Sochi's Winter International Arts Festival.
We inspect a c.1930 violin by Turin maker Annibalotto Fagnola in In Focus; in Trade Secrets Lionnel Genovart details his method for lengthening a violin neck in a modification; My Space looks behind the scenes in the workshop of US double bass maker Seth Kimmel; and in Making Matters bow maker John Matthews gives a guide to making pearl eyes and slides.
We also bring you news of the latest products and auctions, plus our regular analysis and opinion columns, and comprehensive reviews of concerts, CDs and books. Simply go to the current issue to explore the full content listing.
June 2020 also contains The Strad's special free Accessories 2020 supplement, including features on shoulder rest testing, unvarnished instruments, chairs for musicians and string recycling.
Plus, in your digital edition:
Read our report from London's spring auctions, along with extra photos of some of the top lots
Listen to clips from the Tetzlaff Quartet's recording of Beethoven, and then enter our competition to win the CD
More photos from the self-built workshop of our My Space denizen, US double bass maker Seth Kimmel
Is Wieland Kuijken's cello an Andrea Amati or a clever fake? View the extra photos to help you make up your mind
More on the making of pearl slides and eyes, courtesy of British luthierJohn Matthews
Extra images from our investigation into unvarnished instruments - why do luthiers buy them?
And of course, clips from the three recordings bestowed with that sought-after salutation: 'The Strad Recommends'
The digital magazine and print edition are on sale now, or subscribe to access the entire magazine online here.