Micro-CT scanning technology reveals the secrets of the 1735 Carlo Bergonzi 'Baron Knoop' violin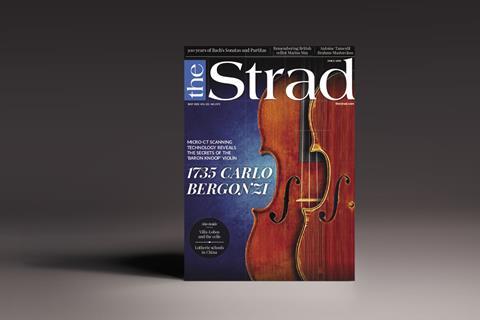 Carlo Bergonzi 1735 'Baron Knoop' violin: Andrea Zanrè examines an instrument by one of the greatest 18th-century Cremonese luthiers, while Rudolf Hopfner reveals the results of CT scanning
Bach Solo Violin Sonatas: In the first of two articles on the Sonatas and Partitas, Lewis Kaplan discusses what the autograph scores can tell us about the composer's intentions
Villa-Lobos and the cello: The Brazilian composer wrote many works for the cello, although his heart lay in his country's folk music tradition. Felipe Avellar de Aquino examines his oeuvre
Session Report: Toby Deller talks to violist Timothy Ridout about his latest album, comprising transcriptions of Schumann's Dichterliebe and Prokofiev's Romeo and Juliet suites
Violin making schools in China: The country of almost 1.4 billion people has only a handful of institutions teaching lutherie. Sisi Ye speaks to the directors of three of the main schools
Marius May: The well-known British cellist died in 2020 aged 61. His brother Simon May looks back on his life, while friends and colleagues give their reminiscences
In our regular sections:
Antoine Tamestit discusses Brahms's Sonata op.120 no.1, arranged for viola and piano in this month's Masterclass, while double bassist Danny Ziemann talks about creating an improvised solo line in jazz in Technique. This issue's Sentimental Work, chosen by the Juilliard Quartet's Roger Tapping, is Brahms's String Sextet no.1, while British viola player Paul Silverthorne takes a look back at his formative years in Life Lessons.
We take an In Focus look at a violin by Samuel Nemessányi, considered one of Hungary's finest makers and, in My Space, visit the tiny workspace of Florence-based American luthier Jamie Marie Lazzara. Ulrich Hinsberger shares his practical system for making a mould and template in Trade Secrets, while Making Matters makes a plea for instrument data from CT scans to be made available to everyone.
We also bring you news of the latest products and auctions, plus our regular analysis and opinion columns, and comprehensive reviews of concerts, CDs and books. Simply go to the current issue to explore the full content listing.
Plus, in your digital edition:
View extra photos of the 1735 'Baron Knoop' Carlo Bergonzi violin, including all-round shots of the scroll and pegbox
Angled photos of this month's In Focus instrument, an 1865 violin by Samuel Nemessányi
Session Report: listen to clips from Timothy Ridout's latest CD, including transcriptions of Schumann's Dichterliebe and Prokofiev's Romeo and Juliet
More pictures from the violin making schools of China, including the students and tutors of the institutions at Shanghai, Beijing and Xinghai
Luthier Jamie Marie Lazzara gives a privileged peep into her tiny Florentine workshop in My Space, with extra images
More from the revitalised Yorkshire Symphony Orchestra's debut at the Harewood House country estate
And of course, clips from the three albums this month honoured with the coveted designation 'The Strad Recommends'
The digital magazine and print edition are on sale now, or subscribe to access the entire magazine online here.