Italian violinist Francesca Dego is granted the rare opportunity to record on Paganini's 'Il Cannone' Guarneri 'del Gesù'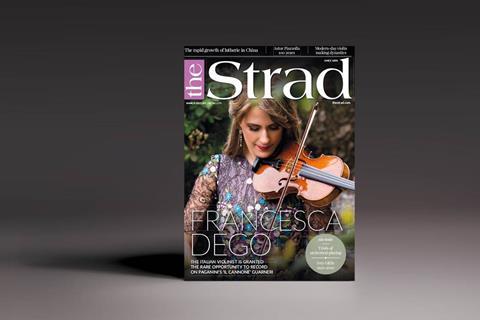 FRANCESCA DEGO: The Italian violinist has made a recording on the famed violin 'Il Cannone', made in 1743 by Guarneri 'del Gesù'. She shares the experience with Tom Stewart
IVRY GITLIS: 1922–2020 The maverick violin virtuoso died on 24 December aged 98. Tully Potter looks back at his career and rounds up some recommended recordings
LUTHERIE DYNASTIES: Peter Somerford talks to representatives of several violin making families around the world about how they feel their heritage has helped them in their work
ASTOR PIAZZOLLA: The Argentine composer would have been 100 years old this month. Rafael Gintoli and Gabriela Olcese discuss his compositional style, with examples of his music
SESSION REPORT: The members of Norway's Engegård Quartet talk to Andrew Mellor about their third album of Mozart string quartets, and why timing has to be impeccable
VIOLIN MAKING IN CHINA: How did the world's most populous country also become its greatest producer of violins? Sisi Ye investigates the roots of its 30-year path to success
ORCHESTRAL PLAYING: Author Gerald Elias, a former violinist with orchestras in Boston and Utah, examines some of the challenges faced by players on a daily basis
In our regular sections:
In the issue's Masterclass Simon Standage presents a guide to the third and fourth movements of Bach's Violin Sonata in E major BWV1016; in Technique cellist Mats Lidström passes on his most beneficial cello warm-up methods; Swedish violinist Johan Dalene shares his personal memories in Life Lessons; plus in Sentimental Work cellist Amit Peled discusses Ernst Bloch's Prayer.
We inspect a double bass by prolific 19th-century English luthier George Craske in In Focus; in Trade Secrets Shem Mackey shares his method of carving the neck of a viola da gamba; My Space looks behind the scenes in the workshop of Brazilian luthier Saulo Dantas-Barreto; and in Making Matters Nelly Poidevin explains her new method of measuring and recording the characteristics of bows.
We also bring you news of the latest products and auctions, plus our regular analysis and opinion columns, and comprehensive reviews of concerts, CDs and books. Simply go to the current issue to explore the full content listing.
Plus, in your digital edition:
Read about Francesca Dego's experiences of playing 'Il Cannone', while listening to several audio clips from her latest album, including pieces by its former owner Paganini
We pay respects to Ivry Gitlis with extra photos of the great violinist, including him with Ginette Neveu and Jules Boucherit among others
Photos and audio from the Engegård Quartet's recording of Mozart string quartets, in the capacious surroundings of Oslo's Sofienberg Church
Photos from Wigmore Hall's programme of live-streamed concerts, including appearances by Jack Liebeck, the Elias and Heath quartets, and the 21 Ensemble
Images from the Berlin Philharmonic's Beethoven celebration in December, where several ensembles came together to perform the composer's string quartets
More from Saulo Dantas-Barreto's workshop, as well as some of his unusual 'thematic' decorated instruments
And of course, clips clips from the three 'The Strad Recommends' recordings
The digital magazine and print edition are on sale now, or subscribe to access the entire magazine online here.