Crossover superstar David Garrett tell us he has no intention of abandoning his classical roots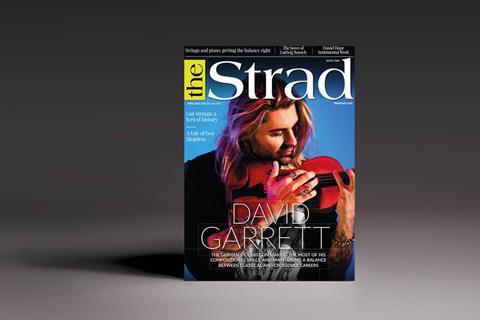 At the age of 40, German–American violinist David Garrett is a bona fide crossover star, in non-Covid times playing regularly to thousands at sold-out arena shows. But, as he tells Charlotte Smith, he has no intention of deserting his classical roots
In 1877, Markneukirchen in Germany was at the heart of the world's string making industry. The townsfolk were so proud, they even composed a drinking song all about it. Kai Köpp explains what the lyrics (translated into English for the first time) reveal about this convoluted process
Producing a nuanced, well-balanced and blended combination of piano and strings can be a difficult performance feat to achieve. Pauline Harding talks to chamber musicians, soloists and teachers to discover some of their secrets
Polish violinist Janusz Wawrowski's new arrangement of Ludomir Różycki's Violin Concerto reveals a far more optimistic work than its wartime origins suggest, writes Harry White
Respected during his lifetime, Ludwig Bausch was almost unknown just a few years after his death – and his bows were considered unremarkable junk. Josef P. Gabriel reveals why the maker and his family were almost lost to history, and why his work deserves to be listed among the greats
Though unrelated by birth, US violinists Eudice Shapiro and Frances Shapiro (later Magnes) forged parallel careers which provide a fascinating insight into the lives of female musicians during the mid-20th century, writes Tully Potter
In our regular sections:
In the issue's Masterclass Chiaroscuro Quartet violist Emilie Hörnlund gives us her guide to the first movement of Beethoven's String Quartet op.59 no.1; in Technique cellist Mats Lidström switches to the right hand for the second part of his guide to warming up; British–Japanese violinst Hideko Udagawa remembers her studies with Nathan Milstein in Life Lessons; plus in Sentimental Work violinist Daniel Hope discusses Schnittke's First Violin Sonata
We take an In Focus look at a 1729 violin by Pietro Gallinotti head to the Ravensburg workshop of luthier Ernst Fuchs in My Space. In Trade Secrets Andreas Preuss explains how to reinforce a cello bridge while Making Matters asks just how high the saddle of a double bass should be raised.
We also bring you news of the latest products and auctions, plus our regular analysis and opinion columns, and comprehensive reviews of concerts, CDs and books. Simply go to the current issue to explore the full content listing.
Plus, in your digital edition:
View more photos of bows by Ludwig Bausch, as well as those of his early master Andreas Engleder
Daniel Hope talks about his relationship with Schnittke, with audio clips from his latest recording of his First Violin Sonata
Extra pictures of Janusz Wawrowski at the recording session for his latest CD of Różycki and Tchaikovsky - and hear audio clips of each
More from the workshop of Ravensburg workshop of luthier Ernst Fuchs in My Space
And, as ever, clips from this month's recommended recordings
The digital magazine and print edition are on sale now, or subscribe to access the entire magazine online here.