Musicians take great time and care to find the best instrument accessories, but rarely give the same consideration to the ideal chair. Anyone who cares about their posture, comfort and health would do well to pay more attention, writes Harry White
When it comes to musical accessories, chairs can often go under the radar. But when you stop to consider how many musicians spend large portions of their working day sitting down, the chair suddenly becomes a pretty vital piece of equipment. Indeed, given we know that posture is inextricably linked to good technique and health, a good chair is not so much an accessory as a necessity. Here we examine several different chairs, each one made specifically to meet the demands of the professional musician.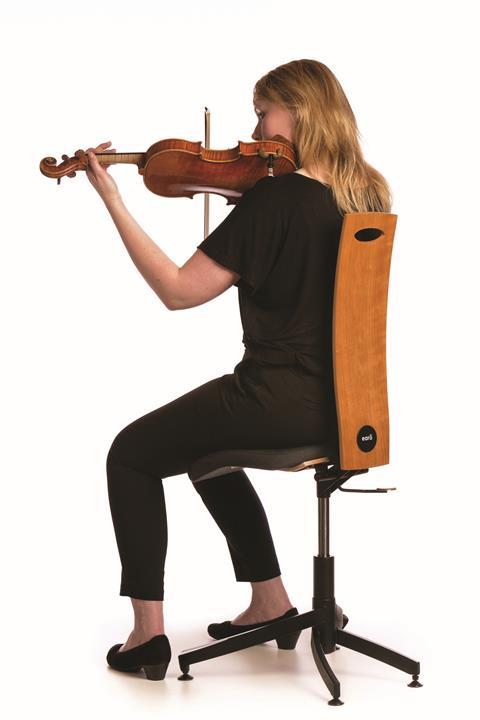 It is beyond doubt that professional orchestral and chamber musicians are especially vulnerable to career-threatening physical conditions, in particular musculoskeletal issues linked to repetitive movements and poor playing positions. There is a relative paucity of academic research on these conditions in musicians, and that which is available doesn't appear to take much of an interest in the musicians' chairs. Several 21st-century studies in the UK, Sweden and Germany found that significant numbers of orchestral musicians had experienced pain or discomfort during seated performance, especially those consistently seated in what are known as asymmetric positions, such as violinists. The most cited and easily accessible study that is specifically focused on chairs was carried out by David A. Brothers, senior university lecturer at the Hillier College of Architecture and Design in Newark, New Jersey. Brothers' research was presented at the Hawaii International Conference on Arts and Humanities in 2012. In it, he directly links the design of a musician's chair to aspects of posture and health, surmising that there are a series of fundamental imperatives that such a chair should allow: freedom of movement for the performer; a forward-sloping seat; height adjustability; and the provision of back rests.
One such chair that looks towards these factors is the Earo, the brainchild of industrial designer Gearóid Ó Conchubhair. Although it was researched and designed specifically to address the pain points provoked by the heavy rehearsal and performance schedules of professional orchestral musicians, the Earo is now marketed to the majority of seated musicians. The design of the chair was geared towards testing seat pressure in order to determine the impact of various seat angles on posture and weight transfer of musicians. Research in 2018 led by the Goethe University in Frankfurt concluded that playing an instrument in a seated position has a significant impact on the force exerted on the chair compared with sitting without an instrument. Indeed, the study found that the force exerted was greater than the weight of the instrument actually being played. In this light, Ó Conchubhair's testing system seems right on the money, especially when you consider that the aforementioned German research noted a 30 per cent reduction in mean pressure with seat cushioning alone.
The Earo has a number of adjustable features that the individual musician can manipulate, principally the seat itself, which is elevated according to the theory that raising the pelvis above the line of the knees enables more relaxed breathing. The fact that the seat is short is deliberate, according to Earo Ltd operations manager Chris Philbin, in order to reduce restriction on the thighs. We all know how important an open posture is to technique, and the adjustable angle of the seat is a direct response to this, while locating the sitting bones on the rear portion of the seat endeavours to promote a neutral posture by enabling forward pelvic rotation. One rather idiosyncratic feature of the Earo is its narrow back rest, intended to facilitate mobility in the upper body, an aspect of musicians' chairs that Brothers' research deemed important.
The force exerted on the chair by playing an instrument in a seated position is greater than the weight of the instrument
One potentially controversial part of Brothers' paper was that the vast majority of musicians interviewed had almost no interest whatsoever in what the chair they were sitting on actually looked like. Given that Brothers is himself a designer, this must have posed something of a conundrum. For other designers in the field, such as Massimo and Luca Rossi of Italian furniture company Universal E C srl, aesthetic consideration are at the nexus of creating a chair for musicians. 'Musicians also experience comfort with their eyes,' says Massimo Rossi. 'The functional purpose of a chair is, of course, pivotal, but one's experience of being in the chair will also be informed by its appearance. So many chairs for musicians are made in brutalist metal or plastic and with seemingly little care taken for the appearance. It is important also to remember that chairs are part of the stage presentation within a performance.' It's no surprise, then, that Universal's Dolce Music chair takes an aesthetic approach to product development. The Rossi brothers are keen to emphasise an 'elegant, Italian' approach to design that is primarily made manifest in the use of wood and the undoubtedly stylish appearance.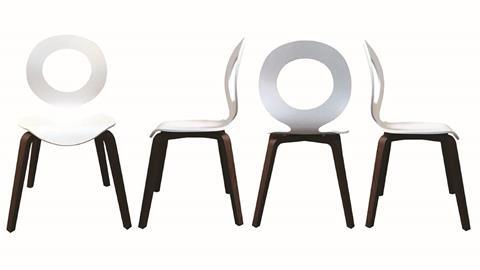 Although subject to traditional Italian craftsmanship, the Dolce Music chair is the result of a collaboration between the Rossi brothers and British designer Bim Burton, whose design for 'The Jolly' instrument-and-music stand encouraged the brothers to move from general furniture craft into specialist musical products. Functionality is clearly still important, and the chair boasts a series of features that differentiate it from generic furniture as specialist equipment for professional musicians. The seat is set at four degrees of forward tilt, and is wide to provide additional comfort for cellists. The tops of the chair legs are covered by the shell, sensitively avoiding the problem of damage via accidental contact. The back rest is curved in two dimensions for comfort, while its shape is designed in such a way as to enable freedom of arm movement. The front part of the seat is demonstrably curved towards the floor, and is intended to increase comfort in the area behind the musician's knees. The Dolce Music chair also comes with a rather neat little addition of a 'pocket music bag' that can be tagged on to the back for music storage during performances.
Another manufacturer that looks to balance aesthetics with functionality is R.C. Williams Company, in the form of its confidently named Amazing Cello Stand and Amazing Bass Stand. You'd be forgiven for thinking you might be purchasing a stand here. You'd be wrong. Well, at least partly wrong. The ACS and ABS double up as both instrument stands and chairs, and are intended to be used by professional orchestral and chamber musicians, school players and amateurs alike. They come with an authentic natural finish and there is also a Concert Black version, intended for a less conspicuous appearance on stage. Used as chairs, the products have a foam seat for comfort, and support weights of up to 500 pounds.
R.C. Williams Company manager Nancy McGuire is keen to emphasise that the chairs' raison d'être is 'to prevent performance fatigue and encourage good posture'. To this end, the key difference between the ACS/ABS and an orthodox chair is to be found in the seat, which is crafted in such a way that it is much like sitting on the front portion of a chair but without any slope. Consisting only of the 7-inch-deep flat seat and, interestingly, without any back, the chair gently guides the musician to sit up straight. The bass model also has a useful feature for players to rest their feet, encouraging a decent playing position, while its sister product for cello has been considerately designed with in-built notches to prevent slippage. A foam seat addresses one of the key conclusions of the aforementioned German research, which found that the amount of pressure applied upon the chair was inversely proportionate to the amount of seat cushioning.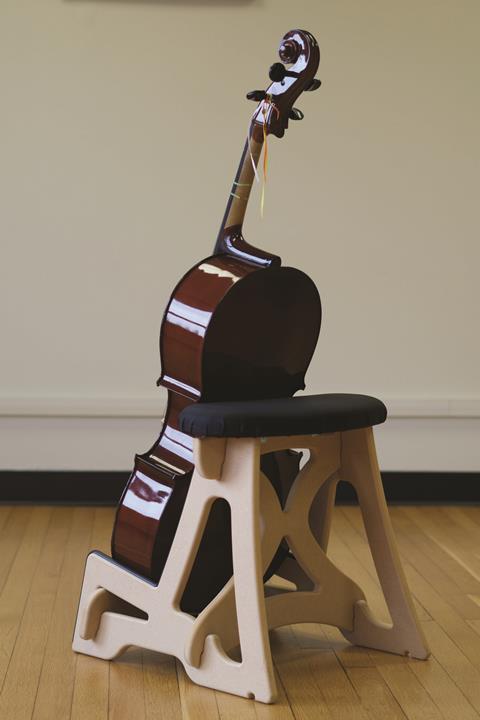 Designed by Rick Williams, the chairs are produced in Merriam, Kansas, and form a key part of the company's range of accessories it promotes as dedicated to 'conserving players'. Williams explains the process by which structure and materials are tested, which he calls 'Paper Doll technology'. 'When I first had the idea to develop the Bass Stand, I started with various materials aimed at addressing environmental concerns,' he says. 'Although they worked, they were not consistently available. Ultimately, I needed something that was always available. I had worked with MDF before and knew it is tough stuff and can be sanded to a smooth finish. I found a premium grade which has no formaldehyde and started using it. My stands continue to evolve. I review my procedures and design periodically, and when I have an idea that is an improvement, I incorporate it. There are always multiple iterations until I feel the product is achieving my goals. The Cello Stand came later. I was asked to make it many times before I did, mostly because to sit on it the way I always do on the Bass Stand, the stand part would have been in the way of the player. One day while explaining why it wouldn't work, it suddenly dawned on me that all I had to do was turn it around to sit on it! So I cut a notch in the rear leg to stop slippage and started making them.'
Strength was tested by rather unorthodox means. 'One day I got an email from a gentleman who said he was somewhat portly, and was curious if the stand would support his weight,' says Williams. 'I took a stand with an un-upholstered seat out behind the shop and piled about 500 pounds of concrete-mix bags on it and sent him a picture. I'm sure the seat would have held more, but I couldn't stack the bags any higher!'
It's interesting to note that, in spite of his research concerning aesthetics in musicians' chairs, David Brothers has himself designed a chair for musicians that certainly has more than pure functionality in mind. An elegant, triangular form with only three legs betrays that even if the majority of musicians in Brothers' study didn't care much about a chair's appearance, this designer certainly does. Carbon fibre allows for stability and strength, and the chair features an adjustable seat and back rest in addition to a forward tilt, conforming to the findings of its maker's research.
'It is important to remember that chairs are part of the stage presentation within a performance' — Massimo Rossi
As musicians and orchestral managers take a greater interest in chairs, more focus will inevitably be directed towards examining how chairs can encourage better health in professional musicians. A 2017 study in Germany surveying over 8,500 musicians from 132 orchestras consolidated the importance of such consideration, with 66.2 per cent of respondents reporting that they suffered from chronic pain, most frequently located in the back, shoulders and neck.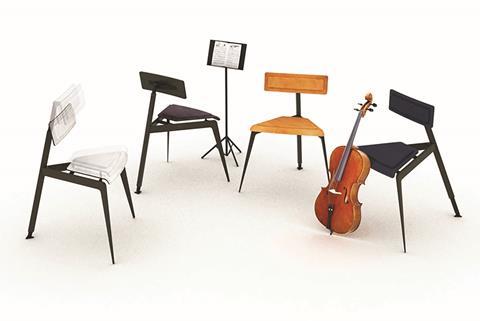 In the same year, the Journal of Occupational Medicine and Toxicology published a study comparing the posture and seating positions of different professional musicians. It suggested that developing bespoke chairs for specific instrumental groupings could help to prevent musculoskeletal disorders. 'Musicians and their employers should be more aware of prevention, and the equipment of orchestral musicians should be the best possible from the ergonomic point of view,' the report stated. 'In contrast to the standing musician, a sitting musician cannot use his entire body, and his ischial tuberosities [sitting bones] bear the largest part of his weight. This is why the condition and quality of his chair and its seating surface is of greatest importance.'
Luca and Massimo Rossi would concur. 'A professional musician who works sitting down has unique considerations,' says Massimo. 'Because of this, an ordinary chair will not do. Specialist music chairs are important because they are designed with the unique considerations of the musician in mind. Professional musicians deserve to sit on something that is both beautiful and good for them.'
This article was published in the June 2020 Tetzlaff Quartet issue

The Tetzlaff Quartet members discuss balancing chamber playing with busy individual careers - and recording their first Beethoven album after 25 years together. Explore all the articles in this issue.

More from this issue…