The 36 contestants appearing in the Quarter-Final round have been announced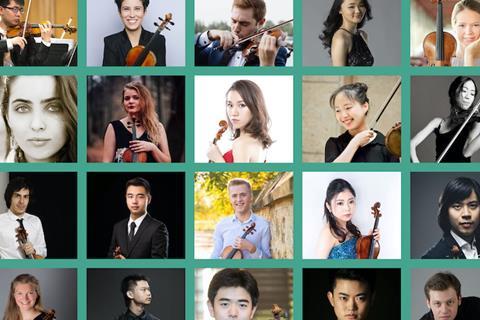 The third Shanghai Isaac Stern International Violin Competition (SISIVC), which has been postponed for one year due to the COVID-19 pandemic, launches on 12 August 2021. Given that 2020 marked the 100th anniversary of Isaac Stern's birth, the current edition maintains its original name – 2020 Shanghai Isaac Stern International Violin Competition.
The competition begins with online events and will finish, next year, in person. Thirty-six contestants will participate in the online Quarter-Final Round from 13-16 August and eighteen contestants will advance to the online Semi-Final Round from 18-21 August. The six contestants who have advanced to the Final Round will be announced on August 22; they will come to Shanghai to participate in the live competition in 2022, according to the national pandemic prevention and control guidelines, performing Violin Concerto 'Night Tour' (a newly- commissioned work by Chinese composer Zhou Tian) and a violin concerto of their choice with the Shanghai Symphony Orchestra. They will also perform as part of a string quartet. The winner will receive prize money of US$100,000.
The president of the Organisation Committee Long Yu said: 'The pandemic has dealt a blow to the global performing arts industry, and it has also caused many young people to lose opportunities. We cannot let them wait for too long. The violin competition is restarting online, and we hope to give a stage to young people from different countries to allow them to display their talents, realize their dreams, and use music to convey confidence and hope to the world.'
Read 2020 Shanghai Isaac Stern International Violin Competition delayed until next year

Read Hair's breadth: postcard from the Shanghai Isaac Stern Violin Competition
Read Nancy Zhou wins Shanghai Isaac Stern International Violin Competition 2018
He continued: 'Consistency is the foundation of international competitions. Although the pandemic has disrupted the rhythm of the competition, we will adhere to high standards and high levels to persevere and create new highlights. We are committed to cultivating talented young musicians for the international music industry of performing arts, and also to enhance the international influence of Chinese music in the world.'
The competition received 102 applications from 31 countries and regions around the world by the application deadline in January last year, and now the list of 36 contestants selected for the Quarter-Final Round has been officially released:
Oganes Arustamov | Russia
Yunfei Bai | China
Marie Bégin | Canada
Stefan Besan | Romania
Angela Sin Ying Chan | Hong Kong, China
Hawijch Elders | Netherlands
Hiu Sing Fan | Hong Kong, China
Liucong Feng | China
Kristine Clair Galano | Philippines
Lusine Harutyunyan | Armenia
Maja Horvat | Slovenia
Sayuri Kuru | Japan
Alice Lee | Canada
Shannon Lee | United States
SooBeen Lee | South Korea
William Lee | Taiwan, China
Youjin Lee | South Korea
Thomas Lefort | France
Ruifeng Lin | China
Charlie Lovell-Jones | United Kingdom
Nao Mizukoshi | Japan
Elias David Moncado | Germany
Ashley Jeehyun Park |United States
Yue Qian | China
Anna Savkina | Russia
Felicitas Schiffner | Germany
Zixuan Shen | China
Steven Song | United States
Haozhe Song | China
Stepan Starikov | Russia
Sophia Su | United States
Katherine Woo | United States
Rino Yoshimoto | Japan
Arata Yumi | Japan
Jingzhi Zhang | China
Philip Zuckerman | Sweden