The US violinist triumphed in the all-female final to take home the $100,000 first prize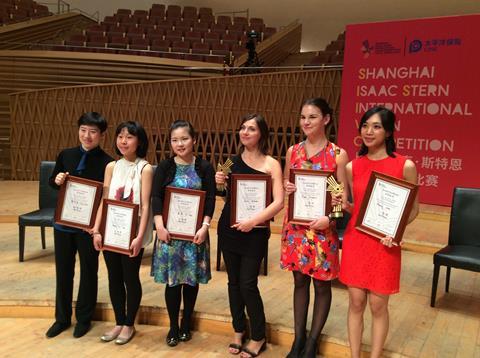 Nancy Zhou has been named the winner of the second Shanghai Isaac Stern International Violin Competition (SISIVC) and takes home the top prize of $100,000.
The 25-year-old violinist from San Antonio, TX, is a graduate of Harvard University and has studied with Miriam Fried at the New England Conservatory. She won second prize at the 2017 Isang Yun Violin Competition and is a laureate of the 2012 Queen Elisabeth Competiton and 2015 Jean Sibelius Violin Competiton.
SISIVC second prize, worth $50,000, goes to 25-year-old Olga Šroubková from the Czech Republic, while third prize, worth $25,000, is awarded to 28-year-old Diana Tishchenko from Ukraine.
Fourth, fifth and sixth prizes, each worth $5,000, go to 22-year-old Jia Yi Chen from China, 18-year-old Chang Yuan Ting from Canada and 26-year-old Yun Tang from China respectively. The $10,000 prize for the best performance of the Chinese work is awarded to Olga Šroubková.
The all-female final round, which took place over three nights from 30 August to 1 September, saw the six finalists perform the Chinese commission, Qigang Chen's La joie de la souffrance, in addition to a chosen concerto with the Shanghai Symphony Orchestra conducted by Michael Stern.
In total 36 candidates were invited to the live rounds, which started on 10 August, chosen by the pre-selection jury from 174 applicants. The jury panel for the live rounds comprised David Stern, Vera Tsu Wei-ling, Zakhar Bron, Martin Campbell-White, Glenn Dicterow, Augustin Dumay, Daniel Heifetz, Emmanuel Hondré, Sreten Krstic, Weigang Li, Siqing Lu, Dora Schwarzberg, Philip Setzer, Maxim Vengerov, and Lina Yu.
The first edition of the biennial competition was won by Japanese violinist Mayu Kishima in 2016.
Read The Strad's interview with joint jury chair David Stern on protecting his father Isaac Stern's legacy and enforcing 'radical clarity' on the jury here.
Photo: The six prizes winners of SISIVC (left to right) Jia Yi Chen, Chang Yuan Ting, Yun Tang, Diana Tishchenko, Olga Šroubková and Nancy Zhou