Kenneth Wilson has set off on an epic cycle ride from Carlisle to Rome, performing along the way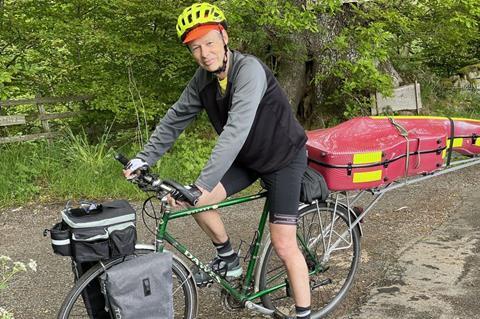 Wilson, from Renwick, Cumbria has begun a 2000-mile ride from Hadrian's Wall to Rome with his cello as a travel companion, named Libre.

Aiming to cover the journey over five weeks, his travels 'from the edge of the Roman Empire to the heart of the Roman empire' will be marked by performances along the way. Covering a variety of styles, from classical standards to movie scores and folk tunes, Wilson has scheduled concerts on the UK mainland between Carlisle and Dover, and plans to 'turn up, play and see what happens' once he arrives on the European mainland.
Wilson will commemorate his journey by recording an album of music performed throughout the cycle, insisting that 'it's not so much about the biking, it's really about the cello'.
Wilson told the BBC he could not remember how his plan to commemorate the Roman Empire came to him, but it 'just seemed like a good idea at the time'.
He also plans to deliver a letter of greeting from the mayor of Carlisle to the mayor of Rome.
Dubbed 'The Poetical Cellist', Wilson enjoys the spontaneous interaction between performer and audience with his poetry and cello playing, both indoors as well as outdoor pop-up performances. 'Most cellists don't play outside. They say the sound disappears on the wind… But I think there's a special quality to it. The landscape and the elements add something.'
In addition to his prior work as a vicar, Wilson also ran a travel company offering spiritual-interest group journeys in India, Nepal and Tibet, as well as working as an author and property developer. He is now based in rural Cumbria where he runs a holiday let and lives in a treehouse.