Davina Shum reports on the violin final of the Carl Nielsen International Competition in Denmark, an event that encourages a unique sense of collaboration and support between competitors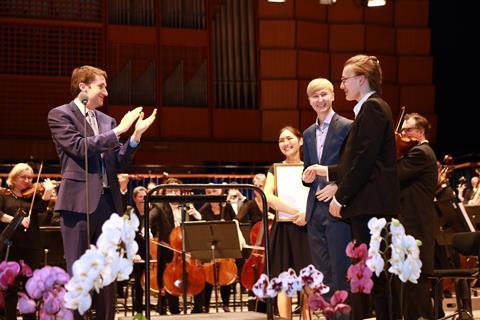 A chilly arctic wind bit my cheeks as I arrived in the tranquil town of Odense, about 100 miles west of Copenhagen, for the latter part of the Carl Nielsen International Competition (which took place 31 March–10 April). The contest is a celebration of the disciplines of violin, flute and clarinet (the instruments for which Nielsen wrote concertos), and the first violin edition was held in 1980. Past winners of the category include Johan Dalene, Liya Petrova and Jiyoon Lee, and current competition president Nikolaj Szeps-Znaider, who won in 1992.
One thing that strikes me as making this competition unique is the way it strives to create an inclusive environment for all competitors, demonstrating how those eliminated in earlier rounds could still benefit from continuing to be present, rather than going straight home. This was achieved through the inaugural edition of Espansiva! – a series of workshops and talks that encourage professional development and provide opportunities for players to meet industry experts (including creative coaches and representatives from orchestral management companies, record labels, agencies and PR and media services) and socialise with other competitors.
This networking took place at a microbrewery called Anarkist, near Odense's city centre. It was here, amid wooden pallets and trendy house plants, that we were treated to a casual gig on my first night by Danish folk violinist Harald Haugaard and his band. As I held a glass of hazy New England IPA in my hand, it felt like a rare treat to be listening to live music and drinking beer on a trip abroad after the last two years of restrictions. This festival-like atmosphere and sense of conviviality extended to those eliminated competitors who chose to stay on after their performances, all of whom were under the age of 30, and many still students or having recently left a conservatoire.
The inclusive and supportive aims of the competition were illustrated by Szeps-Znaider: 'Why should an extended platform or the ability to grow and develop from being part of the competition only apply to the top three competitors? Instead of the usual competition procedure, where you leave if you don't proceed to the next round, we thought: let's make it more tangible, and let's offer real opportunities to interact and create meaningful relationships. It's these interactions with other people – your peers, your colleagues, your counterparts at various music institutions – that will carry your career long term.'
Networking took place in a microbrewery called Anarkist, amid wooden pallets and trendy house plants
This was also something explored in a panel discussion that I took part in with Matthew Trusler (director of Orchid Classics) and Alex Taylor (the Oslo Philharmonic's artistic planner). As three musicians who'd 'turned to the dark side' and taken up non-performing roles, we had the chance to enlighten some of the young contestants about the breadth of career opportunities in the music industry.
Away from the social hub of Anarkist, the musical rounds were held at the Carl Nielsen Salen in the Odense Koncerthus. I was there for the pre-final concert (8 April), in which the three finalists – whittled down from 24 candidates selected by a pre-jury panel – played their choice from a wide range of Romantic and 20th-century concertos: one played the Tchaikovsky and two played the Sibelius. The contestants were accompanied by the Copenhagen Philharmonic conducted by Szeps-Znaider.
First was 23-year-old Estonian Hans Christian Aavik playing Tchaikovsky. There was no evidence that the piece was difficult for him – he weaved lyrical passages with direction and executed the fiery virtuosic ones with flair and spontaneity. At times his sound was swallowed by the lush symphonic writing, which could partly have been to do with his approach: one that favoured face-to-face interaction with the orchestra as if he were playing chamber music.
Next came 24-year-old Korean Eun Che Kim, who provided the first Sibelius Concerto of the night. Maybe I still had beer on my mind, but the rich, robust tone in her lower register reminded me of a smooth and chocolatey stout – not once did the sound crack under pressure and she projected with ease. However, there were some tempo discrepancies between soloist and orchestra at the end of the first movement and the beginning of the third which caused her to play less energetically, and I found myself wanting more of the raucous character suggested by Sibelius's writing.
For the second Sibelius of the evening, the 17-year-old Ukrainian Bohdan Luts had a very different style from that of the previous contestants. His playing was bold, brave and punchy, and at times I did wonder if he was capable of delicacy and subtlety. The first movement was a showcase of fast and furious playing, with intonation in the double-stopped octave passages suffering somewhat as a result. I wanted him to let the music breathe and take up more space, but he did have my full attention during the energetic final movement.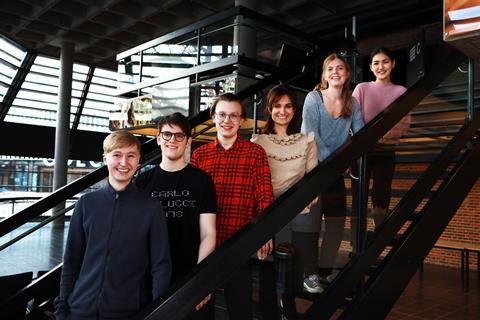 With three starkly different styles of high-level performance, how did the jury decide on a winner? 'That's the hard thing,' said first concertmaster of the Berlin Philharmonic and jury chair Noah Bendix-Balgley, speaking between the pre-final and final rounds. 'It's rarely absolutely clear. Maybe a few favourites emerge, but as a jury you're having to prioritise. Is it more important for me to advance a violinist who is more mature and showing mastery over everything, but having less of a "wow" effect on our audience? Or do I want to hear somebody with incredible potential but who is not quite polished?' He concluded: 'The most important thing is that it's a convincing and musical performance. I'm happy to hear a piece played with a different interpretation from how I would want to do it myself.'
I'm happy to hear a piece played with a different interpretation from how I would want to do it myself - jury chair Noah Bendix-Balgley
For the final, each musician was required to play the 35-minute Nielsen Violin Concerto (just as the flute and clarinet finalists had to play the Nielsen concertos for their respective instruments), accompanied by the Odense Symphony Orchestra under the baton of Daniela Musca. My pre-final impressions of each player extended to these performances too, which made me wonder how the jury was going to pick a winner.
It turned out to be a difficult decision. To everyone's surprise, joint first place was awarded to Aavik and Luts – two players with such different styles. As the first prize winner was entitled to a bow by Duncan Emck donated by Ulf Eriksson Violins, there was an awkward realisation on stage that two were now required. 'Luckily, I have another bow!' proclaimed the bow maker. Kim was awarded the third prize, and I still fondly look back on her controlled, strong tone.
The joint top winners each received a recording deal with Orchid Classics worth €13,000, a cash prize of €5,000, solo guest appearances with top Nordic orchestras and the aforementioned bows. The third prize winner received €7,500 cash. It was smiles and satisfaction all round at the post-ceremony party in the concert hall foyer. As I chatted to Eun Che Kim, she expressed how much she'd loved the competition, despite the challenges – including learning the Nielsen Concerto in just over a month, and breaking her bow-tip plate in the final orchestral rehearsal!
Several of the other contestants I spoke to were still buzzing about the festive energy of the competition, as well as the sense of solidarity and friendship with their peers. It gives me hope that these young musicians will continue as ambassadors for this new style of competition, where toxic rivalry is replaced with the cultivation of meaningful relationships, initiated by the love of music making and the lifelong connections between fellow humans.
This article was published in the June 2022 Pavel Haas Quartet issue.

The Pavel Haas Quartet gives a lively account of their first two decades together, and their upcoming Brahms recording, in conversation with Tom Stewart. Explore all the articles in this issue

More from this issue…