Two years on from winning the Carl Nielsen International Competition, the 20-year-old Swedish violinist is staying close to his roots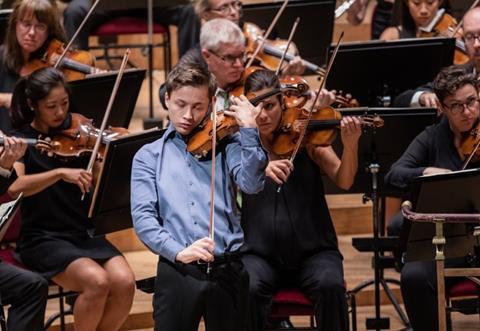 I've been studying with the same teacher since 2010. He's Per Enoksson, the leader of the Gothenburg Symphony Orchestra. We get along really well and I like the way he's totally honest with me. It feels like a good match. I study with him in Stockholm, where I live, and my parents are nearby in Norrköping, a small city about 90 miles to the south. Before the pandemic began I was travelling a lot, and it felt really great to have a base in the same place as my family and all my friends. They were in the audience the first time I played a concerto with the Royal Stockholm Philharmonic; in fact, my whole school came to watch. I recently took part in Crescendo, a Norwegian mentoring scheme that introduces its participants to some real idols – people like Janine Jansen, Gidon Kremer and Leif Ove Andsnes. Janine spends a lot of time here in Sweden, too, and I've been lucky enough to play for her quite a bit since we first met.
Of course I get nervous whenI walk out on stage, but I try to focus on the positives and not to think about the things that make me worry! Playing the violin professionally is an enormous privilege, but I try to do it just for myself – it helps with the nerves and, I think, also helps me just to enjoy the music I'm playing. Although I've got lots of plans for the future, like everyone else this past year, I've had to put a lot of things on hold. It's just the way it is and it won't last for ever. I'd recently started playing more chamber music but that hasn't been possible recently. It's great that live streaming concerts is an option – and it's certainly better than nothing – but it completely changes the whole experience. Playing without an audience isn't as easy as it may seem. On the other hand, having more time to myself has given me the chance to watch Netflix, learn how to cook and just relax at home.
Read: Players of tomorrow: Johan Dalene
Read: Johan Dalene wins violin section of Nielsen Competition 2019
There have been times when I thought I might prefer to do something else. Like my friends at that age, I played a lot of football when I was 12 or 13; I really enjoyed it, and the more I played the more I thought I might want to do more football and less violin. But playing the violin makes me happy, and the idea soon passed. It's tempting to want to follow what other people are doing, but you have to listen to your own instinct and do what makes you happy instead. Having said that, I wish I could go back to when I was about five years old and practising with my mum. If I'd just concentrated a bit more back then, I think everything since might have been much easier!
Interview by Tom Stewart
This article was published in the March 2021 Francesca Dego issue

The Italian violinist is granted the rare opportunity to record on Paganini's 'Il Cannone' Guarneri 'del Gesù'. Explore all the articles in this issue. Explore all the articles in this issue

More from this issue…