Former violist of the Van Kuijk Quartet, Grégoire Vecchioni outlines the ensemble's strategies which led to its success at the Wigmore Hall International String Quartet Competition in March 2015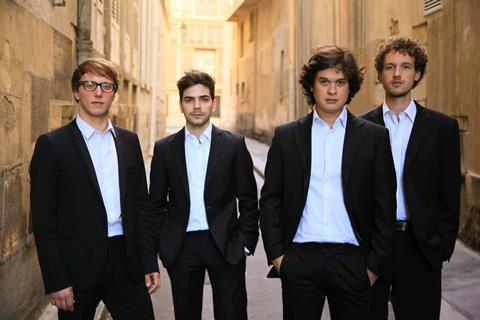 The following is an extract from 'Strategies for Success', The Strad's article on preparing for competitions, published in the September 2015 issue
We were quite meticulous about our practice regime before the Wigmore competition. Cellist François Robin joined the quartet about six months earlier, so we started to schedule our practice time methodically at that point, deciding which of the quartets we knew the least well and which demanded the most detailed practice, and making sure we were all prepared before each rehearsal.
We focused on the first-round repertoire, which required us to play four quartets, and which had the most potential for things to go wrong.We all listened to historical recordings of each work. I think it's particularly important for the members of a quartet to understand the performance history of a piece, possibly because there are more 'rules', both rhythmic and harmonic, when it comes to playing in a string quartet. Perhaps soloists have more latitude when it comes to finding their own interpretation.
We're studying with Günter Pichler, former violinist of the Alban Berg Quartet, who was extremely strict with us and is a master of picking out the finer details and finding what needs to be improved. It proved to be great experience for tackling nerves: playing in front of him is more nerve-racking than either a concert or a competition! Valentin Erben, the Alban Berg Quartet's cellist, was on the competition jury, so we knew their interpretations would be quite close.
We also attended masterclasses with Canadian violist André Roy, who gave advice on how to present ourselves visually. With him we worked on projecting a relaxed, easy-going manner: moving together, looking at each other while playing, breathing at the same time and so on. Sometimes we practised without the music in front of us, so that we could focus more on each other. It was important for us to show the jury that there was a connection between us, which also helps when we perform in front of an audience now.
In the last few days before the competition everyone was inevitably feeling more stressed and we had to keep focused on being relaxed and trusting the other players. We didn't practise too much in the final week; we spent more time at the hotel playing table tennis. For us, the most stressful part of the competition is always the first round – partly because it's the longest, and also because after that there's already a sense of achievement. In the final round you know that at least you'll get to play all the quartets you've been practising, so there's no feeling of failure. Winning the first prize is just the icing on the cake.