The German musician speaks to Amanda Holloway about launching her own career with competition wins, and about her attitude to her students entering contests today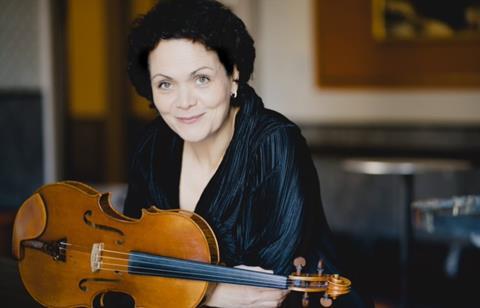 Tabea Zimmermann. Photo: Marco Borggreve
The following is an extract from The Strad's Tabea Zimmermann feature in our May 2020 issue. To read in full, click here to subscribe and login.The May 2020 digital magazine and print edition are on sale now.
It's been 50 years since Zimmermann first picked up a viola – or rather a 1/16-size violin with gut strings ('three violin strings in the wrong place plus a viola C string cut down somewhere near the middle!' she describes). Her teacher at the local music school in Lahr, Germany, found ways of making learning and practising joyful, even for a seven-year-old, and she had fun playing trios with her two sisters. By the time she was 13, she was travelling to the Freiburg conservatoire to study with Ulrich Koch.
At 15, after she had won a national competition, Koch sent her to Geneva to compete in her first international competition. Her final performance is on YouTube and it shows a grave, watchful young girl with bright eyes, braided hair and a demure, high-necked dress. In spite of her astonishingly mature technique and musical interpretation, she seems heartbreakingly young. Zimmermann remembers it as a happy occasion. 'When I see the video now, it's not me I see, it's a very young girl with no idea of what's to come. Aged 15, I really did not think of winning it, I just wanted to get through the first round. It was a beautiful experience.' She did win it, and back in Freiburg, Koch pressured her to enter the Paris competition in 1983, and she found it a much more stressful experience. 'I wanted to prove to myself, to my teacher, to the world, that I merited the Geneva prize. I won, but I did not enjoy the Paris competition.'
She went on to win the Budapest International Competition the following year, but the pressure of expectation increased, and those experiences have coloured her view of competitions to this day. 'I happen to be a strong, stubborn character and maybe my teacher knew that I would be OK with it, but I think it's a very risky game, particularly with a 15-year-old,' she says with hindsight. 'I'd never send one of my 15-year-old students to a competition. But if they say they'd like help in preparing a piece for a competition, I'll say, "OK, let's think about it and if it's your decision I'm going to support you."' She tells her students that they are free to say no, whether that's to competitions or to applying for the summer academies at glamorous festivals. 'I refuse to go to these festivals that are less about the music and more about mingling with wealthy people. I don't feel I belong there and I don't want to play in giant halls with bad acoustics. I'm setting an example to my students by showing you don't have to go there.'
To read the full Tabea Zimmermann article in our May 2020 issue, click here to subscribe and login.
This article was published in the May 2020 130th Anniversary issue

The Strad marks its 130th anniversary with a look at the future of string playing and the violin industry. Explore all the articles in this issue.

More from this issue…