Violinist Itamar Zorman offers a movement-by-movement analysis and appreciation of Karl Amadeus Hartmann's Concerto Funebre for violin and string orchestra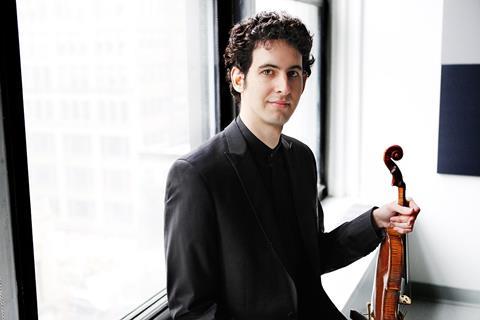 Written at the outbreak of World War II, Hartmann's Concerto Funebre is a powerful and original work, which reacts to the tragic events happening in the world during the time of its composition, without resorting to any cliches.
Written in a direct, communicative yet modern musical style, it is also full of interesting references, musical and political, which I'll outline movement by movement.
Movement 1- Introduktion. Largo
A hushed version of the Hussite chorale 'Ye Who are God's Warriors' (which appears also in Smetana's Má vlast), opens the piece, in a reference to the Nazi annexation of Czechoslovakia earlier in 1939.
Movement 2 - Adagio
The music becomes more personal, as the solo violin embarks on a long recitative, with itermittent March-like commentary from the orchestra. The violin line is highly romantic, full of Wagnerian turns (to be played 'Breit', broadly) and huge leaps, perhaps nostalgic to a long lost era.
Movement 3 - Allegro di Molto
The most tumultuous part of the piece, a movement which keeps getting faster and faster, at some point nearly losing control. Notice how twice, when chaos becomes nearly unbearable, the music halts for a short whispering sentence from the violin.
This movement is clearly inspired by the first movement of Bartók's 5th string quartet. The repeating note motif which opens the movement (it's a B flat, same as in the Bartók), the syncopations and the quick turns, are all bear striking resemblance to Bartók's masterpiece.
Movement 4 - Choral, lansgsamer Marsch
This Choral is a quote of the song 'Unsterbliche Opfer' (Immortal victims), a Russian funeral march used in ceremonies to commemorate resistance heroes and Soviet soldiers. It is quoted also in Shostakovich's 11th Symphony. The choral appears in the orchestra, with original, modern sounding harmonisations, along side very personal commentary by the violin.
In that sense, it reminds me of the final movement from Berg's Violin Concerto, another tragic piece written in Germany only four years earlier. Its last chord however, as opposed to Berg's B flat major which ascends to the heavens, is, for me, the musical equivalent of the word 'defiance'.