Superstar violinist Augustin Hadelich often selects unusual concerto pairings for his recordings. His latest, combining Brahms and Ligeti, is no exception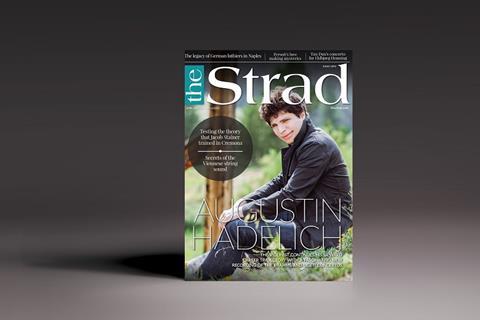 Augustin Hadelich is the cover star of The Strad's April 2019 issue, out now. In a wide-ranging interview, he discusses his career since winning at Indianapolis in 2006, and his latest recording of Brahms and Ligeti concertos.
We find out about Tan Dun and Eldbjørg Hemsing collaborating on a new concerto inspired by the victims of conflict; in our Session Report, Israeli violinist Itamar Zorman talks about his latest project, a recording of works by Paul Ben-Haim combining Eastern and Western influences; plus, an interview with Austrian pedagogue Alfred Staar, conducted just a month before his death in 2000, is published here for the first time. A Postcard from Cape Town sees Leon Bosch reporting on a new event for double bassists.
Jacob Stainer is the focus of new evidence presented by Rudolf Hopfner which casts doubt on the widespread assumption that he learnt his craft in Cremona; and, staying on the German, we look at how makers from Füssen essentially founded the lutherie tradition of Naples, paving the way for the Gaglianos; plus, Paolo Sarri presents a detailed analysis of a single bow by Persoit, showing how his use of illusion gives a light, demure appearance to the head.
In our regular sections:
Our monthly Masterclass is cellist Jan Vogler on Schumann's Fantasiestücke op.73; Matthew Jones offers tips for violists on achieving a good balance between the chin and left thumb in Technique; Vienna Philharmonic concertmaster Albena Danailova tells us her Life Lessons; plus Antje Weithaas expounds on her love of Tchaikovsky's Violin Concerto in Sentimental Work.
In Focus features a 1920 violin made by the Markneukirchen-based luthier Paul Dörfel; Hans Pluhar details his method of making and inserting purfling in Trade Secrets; My Space features the workshop of German luthier Christian Adam; and in Making Matters we hear from Stefan Krattenmacher about the possibilities afforded by using fruitwoods.
We also bring you news of the latest competitions, products and auctions, and comprehensive reviews of concerts, CDs and books.
In our audio-rich April digital edition…
Hear FOUR clips from Augustin Hadelich's latest CD, including from his original cadenza to the Brahms Concerto's first movement (plus the start of the third; and from the Ligeti's first and final movements)
Hear clips from Tan Dun's latest violin concerto Fire Ritual, performed by Eldbjørg Hemsing
Listen to Itamar Zorman's new recording of works by Paul Ben-Haim in Session Report
And in Recordings, a record-breaking seven album clips:

Tasmin Little playing Dame Ethel Smyth's Violin Sonata
Leila Josefowicz playing B.A. Zimmermann's Violin Concerto
Fenella Humphreys playing Sibelius Sonatine op. 80 - III. Lento-Allegretto
Matthew Lipman playing Shostakovich Impromptu for Viola and Piano op.33
The Leonore Piano Trio playing Parry Trio no.3 in G major II. Capriccio-Allegretto
Gautier Capuçon playing Nicht zu rasch from Schumann's Five Pieces
Rachel Barton Pine playing David Baker's Blues 'Deliver My Soul'
Plus
Extra photos of this month's In Focus instrument, a 1920 violin by Paul Dörfel
More from Hamburg-based luthier Christian Adam's unusual workshop in My Space
Little-seen photos from the archive of Alfred Staar in performance
The digital magazine and print edition are on sale now
Do YOU have something to say about the new issue – or about the strings world generally? Send letters to the editor at thestrad@thestrad.com.