The orchestra has announced two months of performances with live audiences from 19 May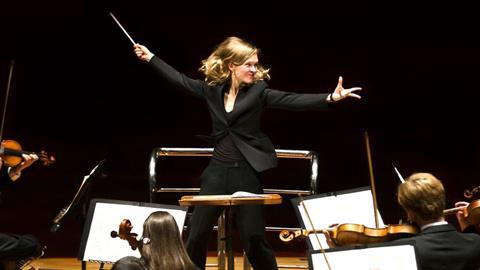 A new acoustic screen at the rear of Birmingham's Symphony Hall stage will allow more City of Birmingham Symphony Orchestra (CBSO) musicians to play together while maintaining social distancing.
According to a CBSO press release, this will make for perhaps the largest orchestra performing anywhere in the UK when the players and live audiences return on 19 May.
The CBSO and its music director Mirga Gražinytė-Tyla have announced the details of forthcoming performances between 19 May and 7 July. Each programme will be played twice, at 2pm and 6.30pm, in order to accomodate greater audience numbers and comply with social distancing requirements.
Read City of Birmingham Symphony Orchestra appoints Eugene Tizikindelean leader
Read CBSO invites NHS workers to attend its concerts for free
Read City of Birmingham Symphony Orchestra launches activities for older people in care homes
Highlights include the world premiere of Thomas Adès's The Exterminating Angel Symphony, a performance with violinist Alina Ibragimova of Prokofiev's First Violin Concerto, and the UK premiere of Julian Anderson's Litainies for cello and orchestra with cellist Alban Gerhardt.
'We are so thrilled to be able to welcome audiences back to our home at Symphony Hall and to be able to share the joy of live orchestral music with them once more,' said CBSO chief executive Stephen Maddock. 'Today we're announcing our programme for eight weekly pairs of concerts from May onwards and we feel sure that the people of Birmingham and the Midlands will want to rush back to enjoy the glorious sound of full-scale orchestral music after more than a year in which we have all been denied this opportunity.'