The Romanian violinist will take up his role at the start of the orchestra's 2020-21 season.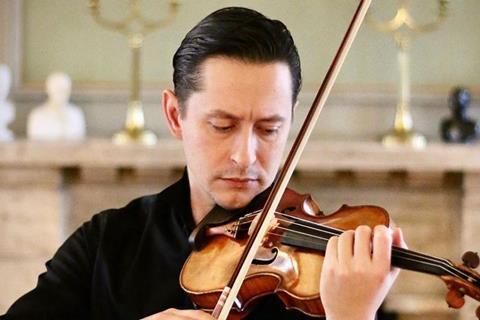 The City of Birmingham Symphony Orchestra (CBSO) has announced that Eugene Tzikindelean has been appointed as its new Leader. He will take up his role at the start of the orchestra's 2020-21 season.
Born into a musical family in Romania and educated in Bucharest and Paris, Tzikindelean won top prizes in international competitions including the Enescu Competition in Romania, the Carl Nielsen International Competition in Denmark and France's Long-Thibaud-Crespin Competition.
After holding a position with the Orchestre du Capitole de Toulouse, he was appointed Leader of the Odense Symphony Orchestra in Denmark in 2012. He also keeps a busy schedule as a soloist, chamber musician and guest leader with ensembles including the London Philharmonic Orchestra, BBC Philharmonic, Oslo Philharmonic, Trondheim Symphony Orchestra, Singapore Symphony Orchestra, Copenhagen Philharmonic, and Århus and Norrkoping Symphony Orchestras, and at the Mikhailovsky Theatre in St Petersburg. His most recent concerto appearance was a performance of Elgar's Violin Concerto in Denmark in early March.
Tzikindelean made his debut with the CBSO in the orchestra's Weinberg weekend in 2018, which included the UK premiere and the recording of a CD of Weinberg's Symphony No.21 for Deutsche Grammophon.
Since then his work with the ensemble has included performances of Mahler's Symphony of a Thousand, Beethoven's Missa Solemnis and the Friday Night Classics concert 'Sounds of the 1920s' at Birmingham's Symphony Hall as well as Elgar's Cello Concerto with Sheku Kanneh-Mason at the 2019 BBC Proms and Mahler's 4th Symphony on tour across Germany.
Eugene Tzikindelean says: 'I am humbled, thankful and also very excited for this appointment. My time with the happy CBSO family and Mirga already has been so inspiring, and I look forward to contributing my energy and passion for music-making and offering stellar performances to audiences in Birmingham, the UK and around the world.'
CBSO Chief Executive Stephen Maddock comments: 'We're thrilled to welcome Eugene to the CBSO family here in Birmingham. Eugene's past performances with the orchestra have shown his incredible musicality and leadership and we are all looking forward to launching our new relationship with him once concerts resume in our anniversary season.'