Mark Pemberton, director of the Association of British Orchestras, reports on a book of essays envisioning the challenges and possibilities for orchestras in the 21st century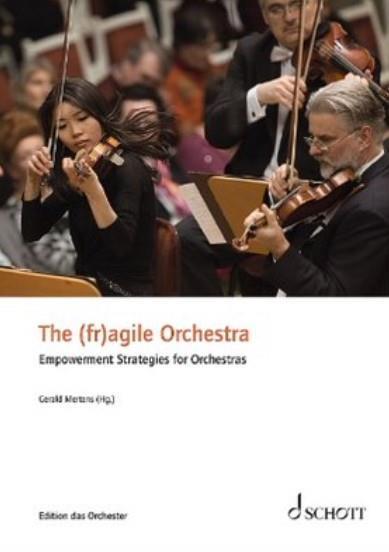 The (Fr)agile Orchestra: Empowerment strategies for orchestras
Ed. Gerald Mertens
130PP ISBN 9783795723118
Schott Music €19.95
It is arguable that British orchestras have never faced as challenging a time as we have in these past 18 months. Even in wartime, concerts continued, to help boost the spirit of the nation. But never before have we seen the forced closure of concert halls and mandatory stay-at-home orders. It's tested to the limit the resilience of the people who both manage and perform in our orchestras.
So it's refreshing to discover we are not alone. This slim but action-packed volume of essays The (Fr)agile Orchestra shows that the same challenges are at work across Europe.
Key to its thesis is that, as Gerald Mertens says in his introduction, 'agile orchestras are able to adapt their business model in a very short time to a changing environment', and each contributor explores this idea as it applies to a specific area of the business, from subscriptions to digital, diversity to musicians' health, and on to climate change. Some chapters are hard work, particularly those that come from an academic rather than a practical perspective. And I have read and re-read the line 'we experience musical performances on the threshold between ourselves and an unknown other', and am none the wiser. One for Pseuds Corner perhaps. But overall the book provides an excellent digest of the challenges that orchestras face, and possible solutions.
It also makes some bold declarations, and Mertens in particular is not afraid to throw down the gauntlet at some of the shibboleths of our industry. While perhaps wrong to say that 'audience numbers are dwindling' (in fact statistics from the Association of British Orchestras show an increase in audiences since 2010), there are some trenchant comments on the 'scandalous' contracts enjoyed by chief conductors, and on the need to stop flying orchestras across the world if we genuinely want to reduce our carbon emissions. It's great to see some recognition of the pioneering role the UK has played in rethinking the orchestral model. And we'll forgive them the needless dig at the British weather.
All in all, this welcome publication serves as an operator's manual for the people who run our orchestras today. It sets an agenda that will help current and future leaders rethink their business model and thrive in a post-pandemic world. As one of the contributors says: 'Nothing will stay as it is.'
MARK PEMBERTON