Cuppa Concerts: At Home is a series of filmed concerts, specially designed for older people living in care settings, to watch from home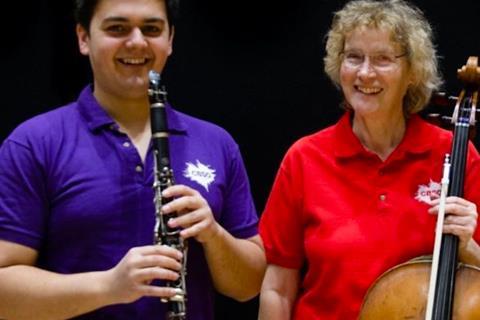 The City of Birmingham Symphony Orchestra are launching Cuppa Concerts: At Home – a series of filmed concerts, specially designed for older people living in care settings, to watch from home anywhere in the UK.
Cuppa Concerts: At Home enables older people living in care settings anywhere in the UK to have a concert experience from their own home. Specially programmed, presented, pre-recorded concerts are available throughout the year, catering for most musical tastes and the first At Home programme will be a festive five-piece brass concert, performed by musicians from the CBSO.
The orchestra will provide participating care settings with access to online resources as well as a DVD of the specially-programmed concert for residents to enjoy in communal spaces, plus a resource pack including information about the music and players, lyric sheets, participatory activity ideas which can be used during the concert, and some further listening to help enrich the experience.
Activities are designed to engage audiences in ways that might evoke memories, as well as allowing audience members to express themselves and feel included in the musical experience, through participatory activities that accompany the music. Through its work with older people and care settings, the CBSO hopes to tackle common issues that old people can face, such as loneliness and isolation.
Read: City of Birminham Symphony Orchestra invites NHS workers to attend its concerts for free
Read: London Mozart Players launches online recitals for most vulnerable
Read: Orchestra of the Age of Enlightenment to launch new digital platform
Also provided will be digital access to all resources (as well as an audio-described programme for those with visual impairments), so that residents can watch the concert in their room, on a tablet or laptop, and on demand.
The Cuppa Concerts series is specially programmed by CBSO musicians, who have been trained in dementia awareness and have direct experience of working in care settings.
The orchestra plan to present three different strands of activities in the coming months – as well as the At Home series, Cuppa Concerts: Presents will provide care settings, day centres, hospitals and other venues with the opportunity to experience a pre-recorded concert by a CBSO mini-orchestra, but with a CBSO musician presenting the concert and performing live, bringing live music to care settings in a safe and socially-distanced way. Meanwhile, Cuppa Concerts: Live will present a series of performances by CBSO ensembles at the CBSO Centre, followed by tea, cake and an opportunity to chat with fellow audience members.
Find out more about the Cuppa Concerts series here.