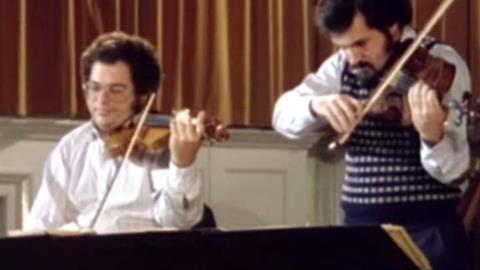 In this live recording from 1978, violinists Itzhak Perlman and Pinchas Zukerman perform Wieniawski's Etude Caprices op. 18 nos. 1 and 2, Spohr's Duo Concertante, and Handel-Halvorsen's Passacaglia together at London's Royal College of Music.
Filmed by Christopher Nupen and recently released on YouTube by Allegro Films, the video also includes footage of the two great musicians rehearsing and improvising together.
Read: 'Bach should be played with vibrato,' says violinist Pinchas Zukerman
Read: 'Never practise for more than five hours per day,' says violinist Itzhak Perlman
Pinchas Zukerman is interviewed in The Strad's September 2016 issue, out now – download on desktop computer or through The Strad App.