Dennis Rooney attends a live performance at the Kravis Center, West Palm Beach, on 24 January 2021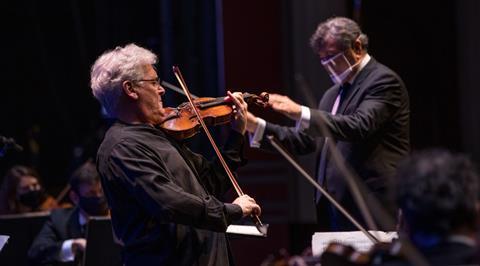 The inaugural concert of the PBSO's 47th season was played primarily for an audience viewing via streaming. However, I was one of a small group who were admitted to the room, observing social spacing and wearing masks. It was the first concert I attended since March 2020 and I jumped at the chance to hear music live.
I last heard Pinchas Zukerman play the Beethoven Concerto with the New York Philharmonic about 15 years ago. I recall that performance had a certain expressive anonymity. On this occasion, however, he seemed fully involved. Nonetheless, his conception of the work is decidedly austere and unsentimental, with no obvious hint of lushness, which often leads to understatement despite playing that is always brilliant. However, I was unsettled to hear some slack articulation of phrase endings, particularly descending ones, as if to suggest that he had already moved on to the next musical thought, leaving the earlier one to trail off. He played the Kreisler cadenza pleasingly, although it was not reminiscent of the elder violinist's tonal warmth. The performance improved in the remaining two movements. The solo instrument was dreamily eloquent in the high tessitura of its duets with the woodwinds. The Rondo achieved its gaiety because that quality is embedded in the music, rather than from the performance itself.
Schwarz, in his first full season as the PBSO's music director, was a workmanlike interpreter of the two other Beethoven works, and the players were well rehearsed and performed with complete professionalism. But such familiar music needs more than that to engage the listener. The Coriolan Overture had virtually no dramatic impact, with little in the way of dynamic contrast and overly reticent accents. The Seventh Symphony's moods of effervescence, drama, jocosity and Dionysian exuberance were unappealingly miniaturised, which too often suggested the need for additional stands of violins and more than three double basses.
DENNIS ROONEY
Photo: Jean-Carlo Ramirez (Indiehouse Films)