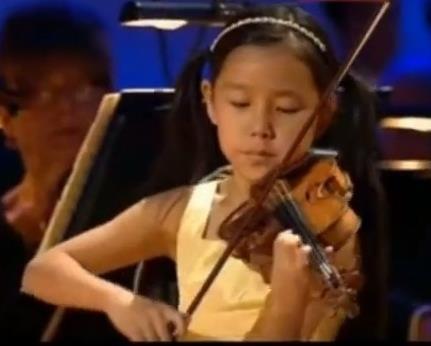 Leia Zhu, aged nine, won first prize in the stringed instrument category of the 2015 International 'Nutcracker' Contest for Young Musicians in Moscow on 7 December. The UK violinist is the youngest contestant to win a gold medal in the competition's 16-year history.
This year the televised contest received 171 entries from musicians aged between nine and thirteen in string, wind and percussion, and piano categories. Zhu, who receives a cash prize of 120,000 RUB (£1,150), performed the third movement of Mendelssohn's Violin Concerto in the final with the Russian National Orchestra. Watch her performance above.
A student of Itzhak Rashkovsky, the young violinist won the International Russian Rotary Music Competition in Moscow earlier this year – watch her performing Mendelssohn in the final. She also won the International Competition 'Young Virtuosos' in Sophia, Bulgaria in March aged eight – watch her performing Wieniawski in the final.