Stellar playing from a violin legend leaves a reviewer wanting more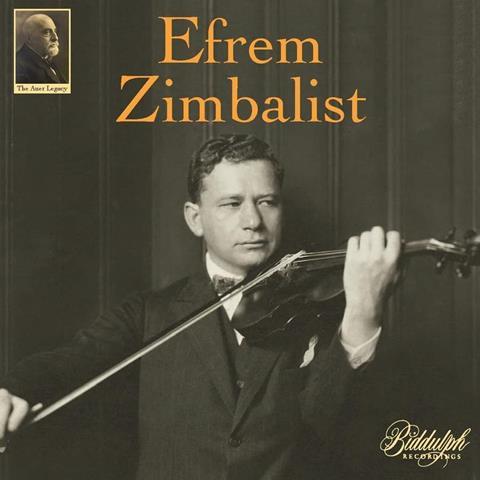 The Strad Issue: November 2022
Description: Stellar playing from a violin legend leaves a reviewer wanting more
Musicians: Efrem Zimbalist (violin) Samuel Chotzinoff, Francis Moore, Emanuel Bay, Harry Kaufman (pianos) Victor Orchestra/Walter B. Rogers
Works: Brahms: Sonata for violin and piano in D minor op.108. Ysaÿe: Sonata for solo violin in G minor op.27 no.1; works by Aulin, Chopin, Cui, Glinka, Saint-Saëns, Yamada and Zimbalist
Catalogue number: BIDDULPH 85018-2
Biddulph is resuscitating Bryan Crimp's APR Auer School series. Its Zimbalist CD adds extra pieces but this scandalously neglected great artist needs a two-disc set.
Gut strings worked well with acoustic recording techniques and the first eight tracks are full of atmosphere, especially Cui's Orientale and Zimbalist's Hebrew Song and Dance, while his Polish Dance displays his haunting cantilena and Glinka's Lark features fine double-stopping.
With Glinka's Persian Song we enter the electric era and Zimbalist's pearly legato becomes clearer – this piece incorporates a delicate glissando. Chopin's Waltz in G flat major really dances, Yamada's Japanese Lullaby has a graceful soft ending and Zimbalist's Improvisation on a Japanese Tune is beautiful.
I would trade the Brahms Sonata – well played but badly balanced à la Heifetz and taken from noisy discs – for some of Zimbalist's electrifying Sarasate. You enter a different world with Ysaÿe's Solo Sonata, one of the great violin recordings, forwardly recorded in 1939 and sublimely played, with sparing vibrato.
A regret: there would have been room for the exquisite Andantino from Reger's solo sonata op.42 no.2.
TULLY POTTER