Bruce Hodges witnesses the performance of Barber, Berlioz, Scott Wheeler and Valerie Coleman at New York's Carnegie Hall on 14 July 2023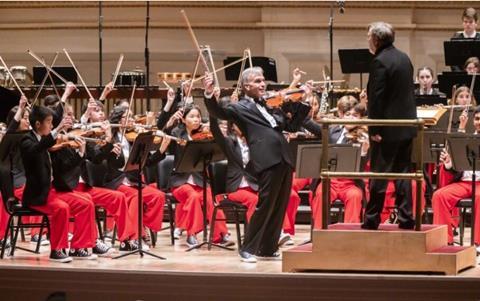 Wearing the same black sneakers as the musicians on stage, Gil Shaham exuded playfulness and camaraderie with his young colleagues (aged 16 to 19) in the National Youth Orchestra of the United States of America, led by Andrew Davis. As soloist in Barber's Violin Concerto, Shaham brought his inherent sweetness to the role, which moved my listening companion to tears. If, at the opening of the rocketing finale, it took a few moments to settle on appropriate tempos (temptation abounds to exceed speed limits), ultimately agreement was reached, with the climaxes wrought in brilliant colours.
Introducing Isolation Rag (2020), a solo written for the violinist by Scott Wheeler, Shaham recalled that the Boston-based composer emailed it to him after acknowledging the effects of the pandemic on concert life. An ideal encore, it had a moodiness that might have made Scott Joplin happy.
For the two other works – Giants of Light, a world premiere by Valerie Coleman, and Berlioz's Symphonie fantastique – the enormous string contingent radiated youthful enthusiasm. (One eager cellist may likely want to tone down his thrashing head movements, to avoid future neck injuries.) Under Davis's encouraging yet calm leadership, the musicians unleashed waves of excitement for the Coleman. In the Berlioz, there was no one who seemed to mind that balances were occasionally off, because the players found so much to revel in, given the work's utter weirdness. As an encore, we had the final March from Hindemith's Symphonic Metamorphosis of Themes by Carl Maria von Weber, and its fireworks seemed ideally suited to the occasion.
Bruce Hodges