Edward Bhesania hears the performance at London's Barbican Hall on 9 December 2021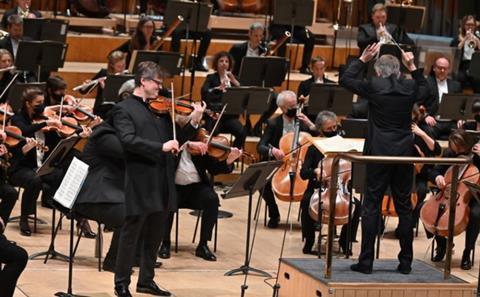 There were no downsides to the LSO casting its leader Roman Simovic as soloist in Miklós Rózsa's Violin Concerto, written in 1953 for Heifetz and adapted for Billy Wilder's 1970 film The Private Life of Sherlock Holmes.
Super-prepared and able to make light of the part's difficulties, Simovic proved a passionate advocate for the concerto, which combines the rhythmic verve of Walton with the lush tune-spinning of Korngold. If there was a hint of slightly muted exuberance in the first movement, this could be because soloist, orchestra and conductor also had an eye ahead to the numerous tight corners to be turned together, all as it happened cleanly negotiated by Kirill Karabits, who stood in at short notice to replace Simon Rattle, who was self-isolating after contracting Covid-19.
Simovic found a vein of reverie in the lambent second movement, which ends with the soloist disappearing into stratospheric heights, and he had power in reserve for the taxing, folk music-inflected finale. To boot, Simovic was visibly thrilled to be on stage with his colleagues, and the camaraderie clearly went both ways.
The orchestra was again on fine form in the second half, with Karabits leading a performance of Bartók's Concerto for Orchestra notable for its freshness and suppleness as well as its colour and precision.
EDWARD BHESANIA