Leah Hollingsworth hears a recital of Bach, Beethoven and Shostakovich at the Isaac Stern Auditorium in New York's Carnegie Hall on 20 October 2022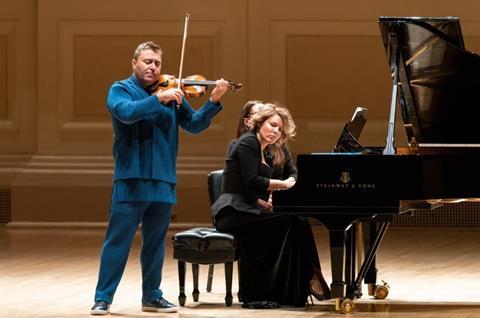 Maxim Vengerov's impressive bow control made for strikingly long phrases in Bach's B minor Violin Sonata BWV1014, with Polina Osetinskaya at the piano. Whether in the opening Adagio or final Allegro, each movement came off as effortless and lithe, double-stops as smooth as silk and spiccato passages given with a smiling ease.
It was followed by Beethoven's 'Kreutzer' Sonata, which opened with a mesmerising purity of sound. The focused intensity of the Presto was equally enthralling, and Vengerov's transitions between the dazzling passagework and lyrical melodies were as spectacular as the writing itself. The duo made the slightly awkward phrasing of the Andante seem elegant, poised and imaginative; and in the ensuing variations playfulness was juxtaposed with intensity and gravity. The finale, with brilliant playing from both musicians, underlined what incredible artists they both are – a marathon of a programme and still only halfway through!
After the interval, the duo presented arrangements of ten of Shostakovich's op.34 Piano Preludes – a wonderful contrast to the first half of the evening. These pieces explored a wide range of human emotion – youthfulness, joy, satire, anger, beauty, passion, humour – and provided a showcase for Vengerov's versatility.
Two Tchaikovsky works ended the evening – Souvenir d'un lieu cher op.42 was both virtuosic and utterly beautiful, and the Valse-Scherzo formed a suitably magnificent close: the incredibly executed cadenza led to a well-deserved standing ovation.
LEAH HOLLINGSWORTH