Ahead of a celebration concert with the Oxford Philharmonic Orchestra, the violinist reflects on his impressive career in the spotlight as a child, including the pressures, rewards and lessons learnt from a lifetime of performance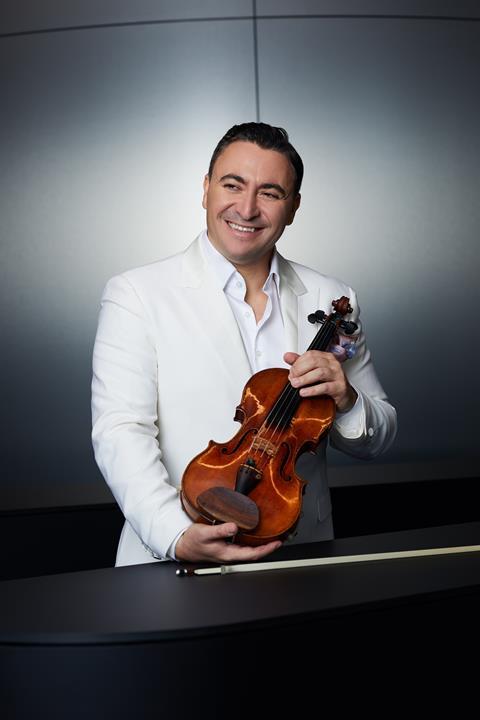 Explore more Featured Stories like this in The Strad Playing Hub
I remember my first concert I ever performed in. I was five years old. I played 30 minutes of music. Serious pieces: some Tchaikovsky, Paganini variations, which are very light, but they have seriously virtuosic passages as well! I enjoyed it very much.
I've always had a sense of purpose on stage. I enjoyed the fact that there were people in the audience, that I'm there for a reason. It wasn't just me, but I was channelling music: I was the link from the composer and that was the main purpose. That's how I was brought up. Being onstage, I carry a certain responsibility to deliver the music in the best possible way. I didn't feel I was working. It was a reward. Preparation - that was hard work. I couldn't understand why needed to do this. But eventually I understood why the concept was worth it.
Growing up in Soviet Russia had some positive sides. Luckily being a child, I experienced only the positive things, unlike my parents. I had the greatest teachers. The music education was excellent, it was free. There were many great things and I couldn't complain. Music was taken very seriously and was often done in a forceful way. It was a different mentality. If you weren't prepared for a lesson, you wouldn't be surprised if the teacher said, 'all right, next!'
I don't know what's right or wrong. This is the way I was brought up. I would never impose this on anyone, including my kids today. For me, music was not just this thing you did because of your passion. There was another element: it was a passport to the world.
Life was very rich in Siberia, in terms of human connection and shared values. I inherited this as a child. But I also knew one thing: if I was going to become a good violinist, I needed to travel to the West. When I was seven, I entered a school for talented kids in Moscow. I studied there for three and a half years, and later I emigrated to Germany on a student exchange.
Studying in Germany was a breath of fresh air. I was very lucky to get the best of both worlds. I stayed in Germany for two and a half years studying with Zakhar Bron. After that at age 15 I won the Carl Flesch competition. The world literally opened for me.
However, that came with a lot of pressure. The way I was brought up – whether it's right or wrong - has made me resistant to many pressures. At the age of 13, I was invited to Japan. I had 12 concerts over 14 days and I had to perform five programmes. Two different recital programmes, including big sonatas like Brahms, Beethoven, Mozart, plus violin concertos by Bruch, Paganini and Tchaikovsky. I was a 13-year-old kid. 14 days, 12 concerts. Surviving on literally a piece of bread and a little sausage in the morning. Well, luckily we were invited by promoters almost every evening to the restaurants because the government Soviet government paid peanuts, just enough for us to survive. I lost so much weight because I wasn't eating enough.
In another example of survival, when I entered Bron's class - I could already play concertos like Mendelssohn and Lalo Symphonie Espagnole - in the first lesson, Bron asked me whether I'd like to go to Moscow, to perform with the Moscow Symphony Orchestra. I said, 'Of course, I would love to,'
'Yes, but there's a condition that you have to perform Paganini Violin Concerto no.1 with the Sauret cadenza.'
I said, 'Sure. I'll consider it,'
'But the concert is in ten days'
I took the music, and I studied the whole day. I brought it to Bron and he worked through it with me. The next day, I brought in the music and put it on the music stand. He said, 'Why didn't you learn it by heart?'
'But it's only the second day!'
'If you bring me that tomorrow with the music then I will think you're just not talented enough.'
Pressure: good or bad? Either way, I would certainly not bring up my own kids like this because music, for me, is a great profession, but you cannot force it. You cannot force children to create a great sound when they're still tiny. I was brought up with a lot of force.
Although, during the pandemic, I had some disagreements my eldest daughter Lisa, who was eight and a half at the time. I wasn't happy with the way things were running. There was too much disorganisation, so I said, 'We have to wake up early, even though you don't have to have to wake up for school, you still have to organise yourself. We don't want to be late for online lessons.'
Within a month, Lisa said, 'Daddy, when are you going to go away?' which was quite a big shock to me! I realised that before the pandemic, I was a father that was occasionally at home for the kids. Now, although my schedule is full, the mentality has changed. They know that Daddy is at home and then he must go and travel because that's his work. I much prefer it this way.
It's always a reward to be on stage, especially after this bloody pandemic! I feel so young. I'm 48, but the music is full of joys and after this pandemic, I'm reborn again. On the 19 September we'll celebrate my relationship with Oxford Philharmonic Orchestra, with whom I've had residences and performed a lot. It's a little bit like family for me. It's a very special atmosphere with the conductor Marios Papdopoulos and the musicians of the orchestra. It's a great community where everyone feels they're equal partners. That's the way it should be when performing violin concertos. It's a collaboration. I'm also going to play the Beethoven Triple Concerto with my wonderful friends Mischa Maisky and Simon Trpčeski.
I think it's more a celebration of my love for British audiences, rather than 40 years of performing, because it's already been delayed several years! The feeling that I had at the age of five is the same today; nothing has changed!
It reminds me of this famous anecdote about Mischa Elman. There was a story from when he played his last concert. They asked him, 'So Mischa, tell us, what's the difference between your first concert when you were five and today?' 'Well, absolutely no difference. People always tell me I play very well for my age!'
As told to Davina Shum
Maxim Vengerov: Royal Albert Hall Celebration with Friends will take place on Monday 19 September 2022, 19:30. More information can be found here.