Edward Bhesania witnesses the performance from London's Milton Court Concert Hall on 9 July 2023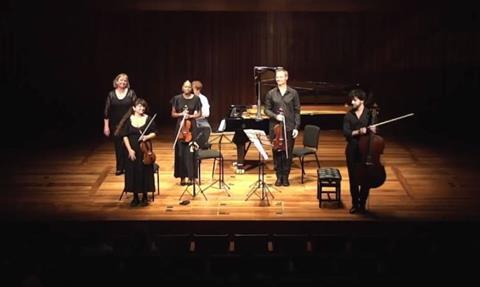 This was the final concert in a weekend festival given by Guildhall School musicians, sometimes, as here, joined by professors.
Featuring two students and two staff, Frank Bridge's Phantasy for piano quartet lived up to its title, with a hint of dark magic in the melodic first movement and an eerie flicker in the scherzo-like second. Forming a somewhat symmetrical programme, two trio pieces were then followed by a return to an upscaled ensemble. Duruflé's Prélude, récitatif et variations for viola, flute and piano brought a touching dialogue between flautist Rachel Watson and violist Gary Pomeroy (the latter a staffer), both standing to play. Pianist Thomas Eeckhout (a student) nicely drew the whole together.
Former LSO principal clarinet Andrew Marriner was joined by two highly accomplished students – Yunzhe Wu (violin) and David Palmer (piano) – for a performance of Bartók's Contrasts that drew concentrated intensity from what can seem quite abstract music.
Complementing Bridge's Phantasy, Elgar's Piano Quintet featured three students, including both violinists, with Jacqueline Monteiro following first violinist Violetta Suvini, sticking like a limpet when required. The highlight was the daringly slow Adagio, with a real sense of sweep, no drag and a powerful combined body of sound.
Edward Bhesania