Characterful chamber music from the man who completed Turandot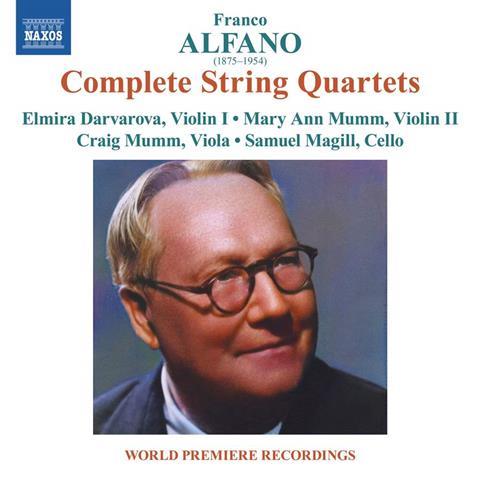 The Strad Issue: October 2023
Description: Characterful chamber music from the man who completed Turandot
Musicians: Elmira Darvarova, Mary Ann Mumm (violins) Craig Mumm (viola) Samuel Magill (cello)
Works: Alfano: String quartets: no.1 in D major (1924 version), no.2 in Tre Tempi Collegati in C major, no.3 in G minor
Catalogue number: NAXOS 8.579042
These are world-premiere recordings of Italian composer Franco Alfano's three quartets, which deserve to be better known. The first of them, written during the First World War, opens with busy, forceful writing, played here with emotional urgency and aggressive energy, bright-toned and gritty. The second-movement Calmo includes a plangent viola solo, played with affecting simplicity by Craig Mumm; the players give a gentle, fluid account of Alfano's melancholy writing. The busyness of the opening movement is ramped up in the finale, with all four players engaging in a heated dialogue before subsiding into something lush and strange.
The Second Quartet, from ten years later, occupies a different world. The opening Largo, severe, sparse and slow-moving, is played with quiet, meditative intensity. The second movement (headed 'Like a children's song') offers music of delicate faux naivety and the third is a stomping set of rustic dances played with compelling idiomatic character and colour.
Another Largo opens the Third Quartet, an emotionally concentrated and intimate threnody. The Allegretto is a light, lopsided modal dance, much of it in 7/4, and the finale is brisk and boisterous, played with high good humour. The recording is clean and warm.
TIM HOMFRAY