Edward Bhesania hears the performance of Bach, Fazil Say, Vasco Mendonça and Maxim Shalygin at London's LSO St Luke's on 18 November 2022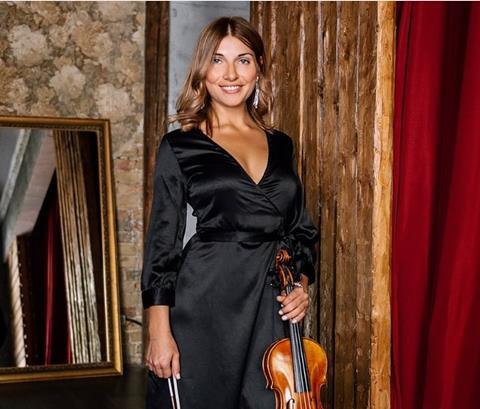 Ukrainian violinist Diana Tishchenko presented a programme of mostly very recent music for this stop on her 16-concert ECHO Rising Stars tour.
The Andante from Bach's Violin Sonata no.2 was hesitant at first, but Tishchenko was soon creating a supple pulsing bass line, delicately rolled chords and a beautiful aria-like melody. Above all, she drew the audience close in moments of daringly quiet playing.
Subtitled 'Mount Ida', Turkish pianist and composer Fazil Say's Violin Sonata no.2 (2019) spotlights the controversial deforestation in Turkey's Ida mountains to make way for a goldmine. It's a heart-on-sleeve work, as its movement titles suggest ('Decimation of Nature', 'Wounded Bird', 'Rite of Hope'). Tishchenko was as absorbed by the violence of the first movement, with its hammering motifs for both violin and piano, as in the central one's celestial chirruping; though wounded, this is an eloquent bird. The Bartókian finale – percussive and strongly folk-inflected – drew full-throttle playing.
Likewise, a box of darkness with a bird in its heart by Portuguese composer Vasco Mendonça contained both birdsong and a dynamic close. Tishchenko further impressed with the extremes of expression in Ukrainian-Dutch composer Bach, Fazil Say, Vasco Mendonça and Maxim ShalyginKAYA. A tough programme in all (and not only for the players), brought off with crackling conviction.
EDWARD BHESANIA