The Ukrainian violinist receives €25,000, plus a number of important concert engagements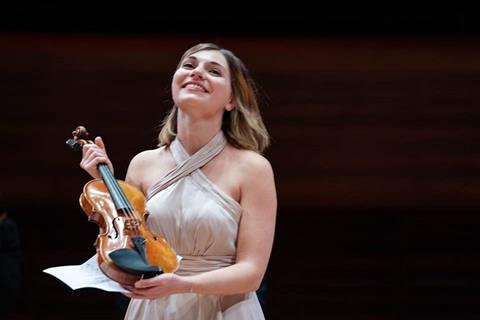 Following a final round in which contestants performed two violin concertos chosen amongst those by Beethoven, Brahms, Mendelssohn, Tchaikovsky, Dvořák, Sibelius, and Haydn, the 1st Prize of the Long-Thibaud-Crespin competition has been awarded to Diana Tishchenko.
The 28-year-old Ukrainian violinist receives €25,000, the loan of a J.B Guadagnini instrument, plus a number of important concert engagements.
She also won the special 'Warner Classics & Erato' prize, which gives her the opportunity to make a CD recording on the label.
2nd prize went to 24-year-old Mayumi Kanagawa from the USA, who also won an award for the best interpretation in the concerto round.
24-year-old Russian violinist, Dmitry Smirnov, was awarded 3rd prize, along with a special prize for the best interpretation of this year's new work, 'Autumn Rhythm' .
4th, 5th and 6th prizes were awarded to 18-year-old Louisa Staples from the United Kingdom, 26-year-old Arata Yumi from Japan and 25-year-old Daniel Kogan from Russia/Canada.
Tishchenko, who studied with Ulf Wallin at the Hochschule für Musik Hanns Eisler in Berlin,and is currently taking postgraduate studies with Boris Kuschnir at the Kunstuniversität Graz, has already won prizes at several international competitions, including the 2018 Shanghai Isaac Stern International Violin Competition and the 2017 Felix Mendelssohn-Bartholdy Music Academy Competition in Berlin.
Founded in 1943, the triennial contest is open to international violinists under 30 years of age who are ready to embark on an international career.
The 2018 jury comprised: Renaud Capuçon (President), Alena Baeva, Kolja Blacher, James Ehnes, Martin Engstroem, Linda Gourdjia, Jean-Jacques Kantorow, Guillaume Sutre, Akiko Suwanai, Yan Pascal Tortelier, Maxim Vengerov and Qian Zhou.
Previous prize winners include: Kristóf Baráti, Alexandre Brussilovsky and Christian Ferras.