Powerful advocacy of a Russian figure in thrall to Shostakovich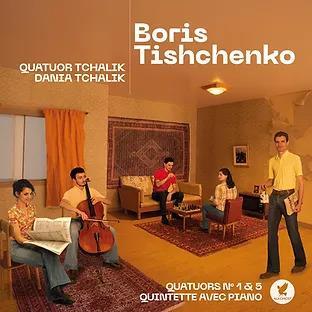 The Strad Issue: July 2023
Description: Powerful advocacy of a Russian figure in thrall to Shostakovich
Musicians: Tchalik Quartet, Dania Tchalik (piano)
Works: Tishchenko: String Quartets: no.1 op.8, no.5 op.90; Piano Quintet op.93
Catalogue number: ALKONOST ALK008
With the first and fifth (of six) string quartets, as well as a one-movement piano quintet, this CD offers a bird's-eye panorama of the chamber music of Boris Tishchenko (1939–2010). He was, through his teacher Galina Ustvolskaya, a grand-student of Dmitry Shostakovich. While still in his twenties, Tishchenko did postgraduate work with the great man himself, and his influence can be heard in some doggedly obsessive rhythms, percussive effects and melodic shaping. His First Quartet, a student piece from 1957, consists of two short slow movements framing a scherzo, the whole lasting barely ten minutes. Conversely, the Fifth (from 1984) is a fully fledged Neoclassical affair down to the exposition repeat. Therein, Tishchenko has humorously attempted a précis of the genre's history, with echoes from Haydn and Dvořák that keep teasing the ear before being crushed by some Schnittke-esque clusters.
Having met the composer shortly before his death, the Russo–French Tchalik Quartet – made up of siblings of that ilk – has developed a perceptive feeling for his language and proves itself a sensitive advocate of his music. The musicians' set of matched instruments by Philippe Mitéran – played with bows by Konstantin Cheptitski – evinces in their hands well blended yet distinct timbres that forcefully convey Tishchenko's idiosyncratic part-writing. The lifelike recording does justice both to the beautifully elegiac, unaccompanied viola solo that opens the First Quartet and to the cataclysmic climaxes of the Piano Quintet.
The thoughtfully produced booklet, featuring intriguing artwork from Tishchenko's almost exact contemporary, Vladimir Yankilevsky, deserves particular praise. Let's hope that these engaging artists will get to complete a Tishchenko quartet cycle in due course.
CARLOS MARÍA SOLARE