Prize-winning violinist demonstrates her mettle in an eloquent recital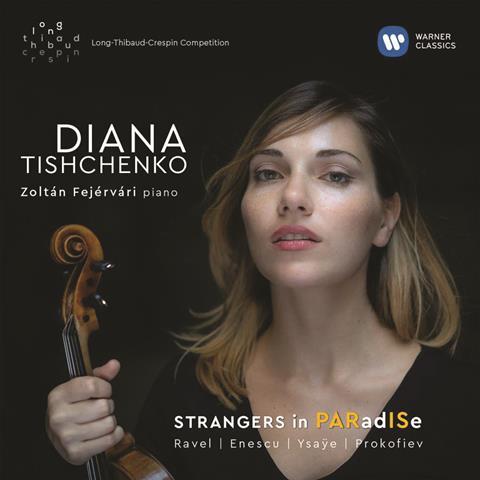 The Strad Issue: March 2020
Description: Prize-winning violinist demonstrates her mettle in an eloquent recital
Musicians: Diana Tishchenko (violin) Zoltán Fejérvári (piano)
Works: Ravel: Violin Sonata no.2. Enescu: Violin Sonata no.3. Ysaÿe: Sonata no.3 for solo violin. Prokofiev: Violin Sonata no.1
Catalogue Number: Warner Classics 0190295403911
Ukrainian Diana Tishchenko was the 2018 winner of the Long–Thibaud–Crespin competition in Paris, and this disc of 20th-century sonatas showcases the big-hearted, charismatic playing that swept her to first place. Despite the album's corny title – Strangers in Paradise – Tishchenko proves herself here as not one for cliché. Spontaneity and eloquence are hallmarks of her playing, and her sheer imaginative flair gives these works a freshly minted sheen.
Burnished tone colours shine in Ravel's quixotic Sonata no.2, where Tishchenko thrills to the gorgeous, lazy romancing of 'Blues' and the quicksilver firings of the Perpetuum mobile, with adept support from Hungarian pianist Zoltán Fejérvári.
Enescu's Sonata no.3 is equally compelling, the dancing rhythms and chromaticisms of its folk-infused palette described with rich abandon yet supreme attention to detail, particularly in the high-wire Andante sostenuto e misterioso. The freewheeling phrases of Ysaÿe's Sonata no.3 for solo violin are breathtaking – gorgeously expressive, and with never a gesture wasted.
The two musicians come together again for a hauntingly powerful finale: Prokofiev's dark Sonata no.1. Heart-rending control in the grief-laden first movement gives way to a vicious Allegro brusco and a third movement of visceral beauty, before the heroic finale. Immediacy and vitality of recorded sound ensure that this disc is one to treasure.
CATHERINE NELSON