For the Austrian violinist, Mozart's Violin Concerto no.4 in D major K218 brings back fond memories of David Oistrakh – and a less salubrious recollection of the Tibor Varga Competition. From the October 2019 issue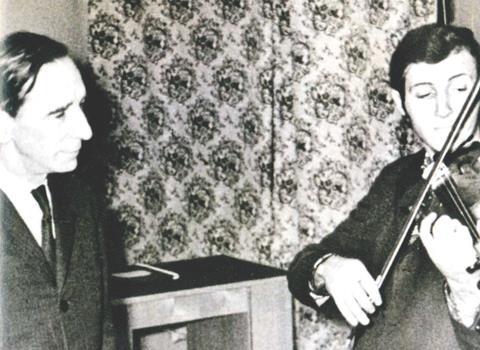 Boris Belenky (left) teaching his student Boris Kuschnir in Moscow in 1966
I was first introduced to Mozart's Fourth Violin Concerto when I was 15 years old. My father was the first concertmaster of the Ukrainian Radio Symphony Orchestra in Kiev, and one day he brought home a recording of Yehudi Menuhin playing all five Mozart concertos. It was an inspirational moment for me, hearing these masterpieces so well played, with Menuhin's big, wonderful and nice sound. Later I was able to compare his interpretation with those by Soviet violinists, and I was amazed by the contrast – Menuhin's had an elegance and softness to it, especially in the endings of the phrases, with a complete lack of aggression and pressure.
Soon after, I went to study at the Moscow Conservatory. My teacher was Boris Belenky, who went through each piece with me in a very detailed way. Of course I studied all the Mozart concertos, although it was unfortunate that there was no urtext to learn from in those days; there were always mistakes in the editions we had. David Oistrakh was teaching at the Conservatory at that time as well, but I didn't cross paths with him until my second year. I was performing the first movement of the Fourth Concerto in the Conservatory's Small Recital Hall, and I didn't know that Oistrakh was in the audience listening.
Afterwards he went to Belenky and said, 'This boy plays very nicely. I haven't heard him before; are you putting him in for any competitions?' I immediately found myself in a new situation, as Belenky was suddenly more interested in me, acted more warmly towards me, and coached me for the All-Union Competition in Leningrad, where I took the third prize. I also had some tuition from Oistrakh, who took me through the Sibelius Concerto and Prokofiev's First; he was friendly and gave very clear advice, especially regarding the right hand. To this day I feel I owe him a debt of gratitude.
In 1983 I entered the Tibor Varga International Violin Competition. For the final I had to perform the Brahms Concerto with orchestra, but the night before, we were told that the orchestra had cancelled owing to travel problems. Instead, we were told, we'd have to perform Mozart's Concerto no.4 with a chamber orchestra. I knew it, of course, but I hadn't practised it at all; and I had one night to prepare. I rehearsed by myself for practically the entire night, and on the next day I performed it with this new orchestra, and won the competition. Another reason why the concerto has a solid place in my heart!
When practising the Mozart concertos, it's very important to pay attention to your right hand. Each piece contains so many interesting details regarding legato, spiccato, sound production and bow changes, and they're perfect works to use for practice.
Rostropovich was another great player I got to know in Moscow, and he told me that when he was young he played for a famous conductor – he didn't give his name – who said he would have an international career later, not because of his good left hand, but because he has such a great right hand. 'It's so much more important than the left – after all, it's the right hand that makes the sound!'
That's one thing I like to remind my students when practising Mozart, along with the importance of using a good urtext version of the score. And try writing your own cadenza!
This article appeared in the October 2019 Elgar Cello Concerto issue. Find it here