Our October 2022 issue spotlights some young double bassists committed to bringing forward new music for the instrument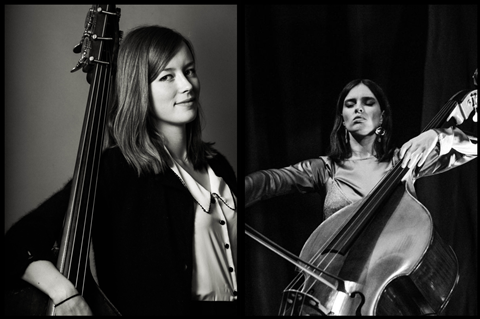 Schofield photo: Thurstan Redding | Gísladóttir photo: Juliette Rowland
Marianne Schofield (left) and Bára Gísladóttir (right)
Explore more Featured Stories like this in The Strad Playing Hub
The following is an extract from The Strad October 2022 cover story 'Rick Stotijn: Stepping into the spotlight'
Bára Gísladóttir Icelandic composer and double bassist based in Copenhagen She recently performed her first double bass concerto, Hringla ('Circle'), with the Copenhagen Philharmonic Orchestra. She often writes for herself as soloist, such as on her 2017 album Mass for Some, comprising a piece in nine movements for double bass, voice and electronics.
James Oesi British-born South African double bass soloist based in the Netherlands He is founder of the Dutch Double Bass Festival. Among the premieres he has given are four works for solo bass (by Boris Bezemer, Aya Yoshida, A. Crespo Barba and Thomas Power) as part of the Nieuwe Noten ('New Notes') initiative at the November Music festival in 's-Hertogenbosch in 2019.
Florentin Ginot French double bassist He has premiered works by figures such as Georges Aperghis, György Kurtág, Rebecca Saunders and Helmut Lachenmann and has been a member of the Cologne-based new-music group Ensemble Musikfabrik since 2015.
Marianne Schofield London-based double bassist She plays as both soloist and chamber musician, with a focus on contemporary music, including as a founder member of chamber group the Hermes Experiment and a member of Riot Ensemble and the LSO Soundhub scheme.
Sam Suggs Double bassist and composer from Buffalo, NY His own works include Ursa (2018) for solo double bass, string quartet and two vibraphones, and collaborations include the contemporary classical and jazz fusion group Triplepoint.