Ahead of his 2020 album release of Bach's Sonatas and Partitas, the violinist continues his blog series, in which he discusses the contradictions between the opposing trends and traditions in Bach interpretation, and his personal solutions to them
Last week Tomás Cotik discussed Ornaments, Trills and Appoggiaturas. This week he focuses on the context of the composition of Bach's Sonatas and Partitas for Solo Violin, the title 'Sei Solo' and Editions.
The Pieces in Context
In 1720, 35-year-old Kapellmeister J.S. Bach was enjoying the best conditions for writing he would ever experience. He was well paid and had significant freedom in composing and performing. His employer, Prince Leopold, was genuinely musical and requested mainly secular and instrumental music. During this patronage, Bach was able to write many of his famed keyboard, instrumental, and orchestral masterpieces. While Bach's career seemed to be thriving, he was faced with significant tragedy in his personal/family life. While he was away on a trip to Carlsbad with the Prince in the summer of 1720, Bach's wife, Maria Barbara, became ill and died. Even at a time when sudden death was common, this loss is believed to have been devastating for Bach and his four children. Nevertheless, it did not keep him from refining and completing his compositions for single unaccompanied string instruments that he had started around the same time, namely the Unaccompanied Sonatas and Partitas for Solo Violin and the Suites for Cello Solo.
Yehudi Menuhin's marked-up copy of Bach's Solo Violin Sonata no.2
Two ♭ or not two ♭ – on the Adagio from Bach's Violin Sonata no.1
Unfinished Dvorák manuscript to be presented in New York
The Title
Frank Cooper's booklet notes for my Bach recoding release summarize the state of what we know about the enigmatic title of the collection 'Sei Solo.'
'Undocumented are the reasons for these works although the Italian title's literalness (You're alone) suggests to some fanciful imaginations that the collection may be an homage to Maria Barbara, Bach's wife who died that year. More likely, the title's spelling is simply erroneous. For certain, the subtitle can only be construed as the novelty that the music is self-sufficient, that unusually it is not to be accompanied.'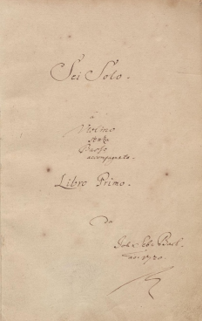 Editions
For practical purposes, I used the Baerenreiter edition. I complemented it with a facsimile of Bach's autograph (one of Bach's most detailed and calligraphic manuscripts) from an old 1962 score published by Insel Verlag.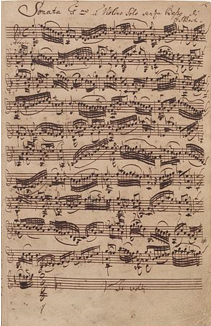 There's nothing like looking at the autograph. So many details like the characteristic writing of the stems of each single note (even in chords), the authentic titles, the motion and direction of Bach's beautiful and inspiring handwriting, the ambiguity of some slurs, and more terrestrially speaking, some mistakes, can be found even in the Baerenreiter edition. Here are some examples of these sorts of differences in articulation between the Baerenreiter edition and the autograph: