The American violinist was the youngest appointed concertmaster of the Metropolitan Opera Orchestra in 1957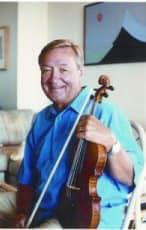 US-violinist Raymond Gniewek has died at the age of 89. Born in New York in 1931, Gniewek studied at the Eastman School of Music, studying with Andre de Ribaupierre and Joseph Knitzer, becoming concertmaster of the Eastman Rochester Orchestra and associate concertmaster of Rochester Philharmonic. He also studied with Canadian violinist Albert Pratz and Raphael Bronstein in New York City.
A prodigious talent, Gniewek is remembered for being the youngest concertmaster of the Metropolitan Opera Orchestra when he was appointed in 1957 at the age of 25. His tenure in the role lasted 43 years, retiring in 2000 with a performance of Béla Bartók's Bluebeard's Castle at Carnegie Hall.
Recently retired principal associate concertmaster of the Met Orchestra, Laura Hamilton, wrote on social media, 'It was my great good fortune to sit next to him for innumerable hours, benefiting from the wealth of his experience and learning all the major repertoire at his elbow. We played so many masterpieces together,'
She continues, 'His mentorship and our close friendship were incredibly meaningful and important to me; he was like a musical father to me. His stamina was legendary and he loved his job, but he also knew how to relax in the off-season and pursue other interests. He was an artist with a formidable technique and a sweetly singing solo sound that I will never forget. He was an amazing and inspiring leader, both in the heat of the action and as our section leader and concertmaster. He appreciated the skills of his section and often told us that he knew how much we contributed to the success of each performance. Rest In Peace, Ray'.
Read: Violinist James Buswell has died
Read: Violinist Igor Oistrakh has died