Karen Gomyo revisits recordings by 'golden age' violinists, and explores why these performances are still so meaningful today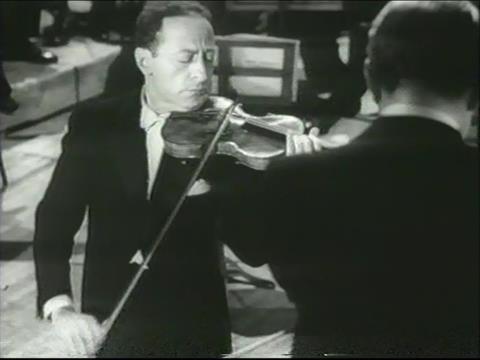 Although I didn't grow up in a musical family, early on I had the good fortune to stumble upon recordings of violinists from previous generations, sometimes referred to as 'golden age' violinists. These mid-20th-century artists possessed such distinct musical personalities and tones that they are immediately recognisable. The lockdowns of the past year have given me the perfect opportunity to revisit these recordings and to think about how they still speak to us.
Considered the 'king' of violinists, Jascha Heifetz (1901–87) was revolutionary in terms of his mind-blowing virtuosity. With a vibrato so electric and personal, he could never be mistaken for anyone else. He had a wide range of glissandos at his disposal, and the ability to use them for designated purposes and moments. What also set Heifetz apart was his inimitable sense of timing, an instinct that tied together all his exceptional qualities. Fritz Kreisler (1875–1962) also had wonderful timing, the kind that makes one smile and swoon. Heifetz's sense of timing had more fierceness, generating tremendous tension. A classic example of his greatness is his recording of Bruch's Scottish Fantasy.
Next, Mischa Elman (1891–1967), whose unique use of timing, well-calculated bow division and wide, extremely personal vibrato – not to mention his unhurried, full-bodied glissandos – were all so magnificently individualistic that they could only have existed during the freedom of his time. His recordings showcase sublime, molten playing full of overtones – but live, it must have been quite extraordinary. In a jewel of a recorded artefact from 1913, where Elman performs Massenet's Élégie with the tenor Enrico Caruso, the violin becomes almost the equivalent of the human voice.
Arthur Grumiaux (1921–86), my favourite interpreter of Mozart, was the epitome of elegance. He had a gorgeous, warm, refined tone, and was the master of simplicity and long, singing lines. No matter how many bow changes he made, he created the most seamless, organic crescendos and diminuendos through his archlike phrasings. A wonderful example is his Adagio K261. The way he phrases off a cantilena alone can give one goosebumps. He plays each note as if it's caressing the next, connecting them through his focused, pearl-like vibrato. His glissandos, always tasteful and classy, mirror the human voice, and his playing sings like the most beautiful bel canto.
Descended from the Russian school, but also influenced by the Franco-Belgian school, Nathan Milstein (1903–92) was the master of inventiveness and suavity. He had an undying curiosity and wit, and an almost childlike excitement which he retained into his eighties. His practical ability allowed him to be unrestrained in his experimentation with bowings and fingerings, as he ceaselessly morphed his interpretations. Compared with Heifetz and Elman, he used glissandos more sparingly, and he had a different vibrato from that of the three preceding players. His ebb-and-flow play with timing between the notes was brilliant, and he had a way of creating architecture within the music, whereby his free, luminous, yet logical phrasing surprises the listener with a feeling of spontaneity, as if he was inventing the music on the spot. One of my favourite recordings is his Saint-Saëns Violin Concerto no.3.
Much like singers have inherently individual voices, these violinists cultivated their idiosyncratic identity through their instrument, treating it as their own voice with which to 'sing' and 'speak'. They embraced the violin's full spectrum of qualities and possibilities: whether with vibrato, glissando, timing or the bow as a tool of expression, they brought to life not only the notes themselves, but also the spaces between them. Furthermore, there was an integrity to these violinists, whose profound artistry comes across despite the below-par recording technology available during their time.
This article was published in the October 2021 Janine Jansen issue

The Dutch violinist performs on twelve of the world's finest Stradivaris for a new recording and documentary. Explore all the articles in this issue . Explore all the articles in this issue

More from this issue…