The renowned Dutch conductor died peacefully last night at the age of 92, in the company of his wife and family at his London home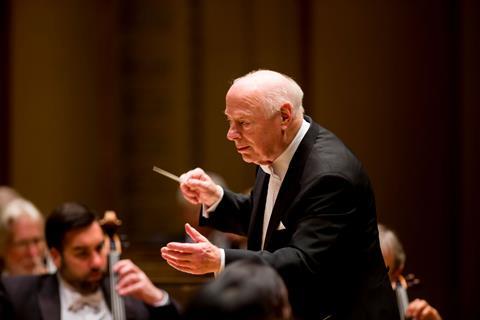 Dutch conductor Bernard Haitink has died at the age of 92. Haitink was a celebrated musician whose conducting career spanned almost 70 years, including 27 years as chief conductor of the Concertgebouw Orchestra, as well as making numerous recordings of major symphonic and operatic works.
Born in Amsterdam in 1929, Haitink began his musical studies on the violin, performing in orchestras during his musical education at the Conservatorium van Amsterdam. He embarked on his conducting studies with the Netherlands Radio, with whom he made his conducting debut in 1954. His Concertgebouw Orchestra debut came in 1956 when he was asked to step in for Carlo Maria Giulini, beginning his relationship with the orchestra of which he would be chief conductor for 27 years.
In a prolific conducting career, Haitink was also music director at The Royal Opera, Covent Garden, and at Glyndebourne Festival Opera, as well as principal conductor of the London Philharmonic Orchestra and the Chicago Symphony Orchestra. He held an emeritus title with the Boston Symphony Orchestra, was conductor laureate of the European Union Youth Orchestra and was an honorary member of the Chamber Orchestra of Europe, the Berlin Philharmonic Orchestra and the Vienna Philharmonic Orchestra, with whom he performed his last concert at the BBC Proms in September 2019.
Haitink had recorded numerous large-scale symphonic and operatic works, including the complete symphony cycles of Beethoven and Brahms for the LSO Live label, as well as many recordings for Phillips and EMI. He won two Grammy Awards: one for the 2003 opera recording with the Royal Opera for Janacek's Jenůfa and another for his 2008 Chicago Symphony Orchestra performance of Shostakovich's Symphony no.4.
A recipient of many awards and honours for his services to music, Haitink was made a Commander of the Order of the Netherlands Lion, an honorary Companion of Honour in the UK, and received honorary doctorates from the University of Oxford and the Royal College of Music, where he regularly conducted the student orchestras.
Read: Violinist Carl Pini has died
Read: Ludwig Quandt: Life Lessons