The violist takes home a cash prize of 40,000 CZK (£1,400) and various accessories from Gewa and Pirastro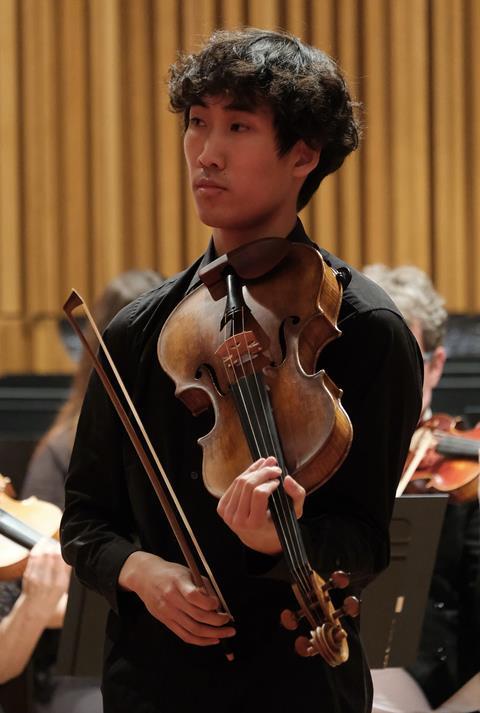 Read more news articles here
The fourth edition of the Oskar Nedbal International Viola Competition was held at Prague Conseravatory over the weekend, with the final round on Sunday 2 October 2022.
Following his performance of a Classical concerto with the Carlsbad Symphony Orchestra, Takehiro Konoe (25, Japan/Netherlands) took first prize. He won a cash prize of 40,000 CZK, a fine viola bow by Luboš Odlas, a viola Luthier case by Gewa, as well as various strings and rosins from Pirastro. Konoe also won the prize for the best interpretation a work by Martinů, worth 15,000 CZK (£500).
Born in 1997 in Amsterdam, Konoe started playing violin at the age of four with Professor Coosje Wijzenbeek and switched to the viola at aged 18. Since September 2016 he has studied viola at the Conservatory of Amsterdam with Nobuko Imai and Francien Schatborn. He was the first prize winner at the 5th National Viola Competition in Amsterdam in 2017, finalist at the 2018 Tokyo International Viola Competition, where he was awarded the 'Suntory Foundation for Arts' prize, and won the third prize at the 67th ARD International Music Competition at Munich in the same year.
Second prize was awarded to Kyungsik Shin (24, South Korea), who took a cash prize of 30,000 CZK (£1,000), plus accessories from Pirastro. He also won the audience prize. 23-year-old US violist Joseph Skerik took third prize of 20,000 CZK (£700), as well as accessories from Pirastro.
Other special awards included Hwayoon Lee (25, South Korea) named competition laureate, with honorary mentions awarded to Laura Liu (USA), Wilhelm Magner (Canada), Yibo Cao (China) and Ilias-Ion Livieratos (Greece). Liu won the Pirastro prize for an outstanding young talent, consisting of a Korfker shoulder rest, while Livieratos won the prize for the best interpretation of a work by Oskar Nedbal, worth 5,000 CZK (£180). The Prague Conservatory Director Prize for the best Czech competitor went to Bohumil Bondarenko.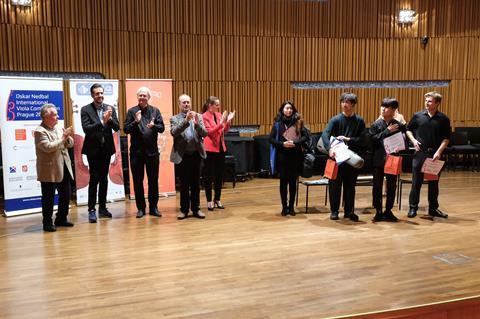 'We are overjoyed to see that the two years of the pandemic and the related restrictions have not deprived the young violists of their motivation to work,' said Kristina Fialová, Czech violist and the competition director and founder. Along with Fialová, the jury comprised of Tim Frederiksen (Denmark), Lars Anders Tomter (Norway), Jan Pěruška (Czech Republic) and Lech Antonio Uszynski (Poland/Switzerland).
The competition has been held annually since 2019 and is open to violists of any nationality with a maximum age of 30. Last year's edition saw no first prize awarded, with Werodnika Dziadek and Ami-Louise Johnsson taking joint second prize.