Two 2nd prizes and a 3rd prize were awarded to contestants from Sweden, Poland and China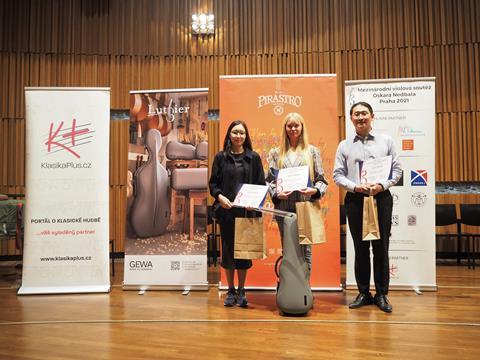 The laureates of the 3rd Oskar Nedbal Viola Competition have been announced, with no 1st prize awarded. This followed a final round at Prague Conservatoire on Sunday 3 October where participants performed a Romantic viola sonata and the mandatory competition piece, Romantic Piece op.18 by Oskar Nedbal. The prizewinners are:
2nd prize – Werodnika Dziadek (Poland) - 30.000 CZK
2nd prize - Ami-Louise Johnsson (Sweden) - 30.000 CZK
3rd prize - Wenhan Jiang (China) - 20.000 CZK
Special awards
Prize for the best interpretation of Oskar Nedbal Romantic Piece op.18 (5.000 CZK) - Ami-Louise Johnsson (Sweden)
Pirastro Prize for an outstanding young talent – Sebastian Gonzalez Mora (Canada/Columbia)
Prague´s Conservatory Director Prize for the best Czech competitor – Mája Wittová (CZ)
Laureates also received various accessories from Luboš Odla, Pirastro and Gewa.
The jury consisted of Kristina Fialová (Czech Republic), Tim Frederiksen (Denmark), Tatjana Masurenko (Germany/Russia), Jan Pěruška (Czech Republic), and Peter Barsony (Hungary)
Kristina Fialová said, 'At the moment, the situation is still not quite what we used to know as normal before the pandemic, however, the contestants performed on a very high level indeed. They all would deserve some distinction, so it was by no means an easy task to select only three laureates.' She continues, 'Lingering travel restrictions robbed us of contestants from Russia, Ukraine and certain other countries, but we do hope travel from all destinations will have become smooth again by next year.'
Read: Semi-finalists selected for Joseph Joachim Violin Competition
Read: Sentimental Work: Roger Tapping
Read: Various viola variables: weight, shape and sound