The violist speaks about his journey of discovery and exploration in transcribing cello and piano works for viola, in his new album Rachmaninoff Stories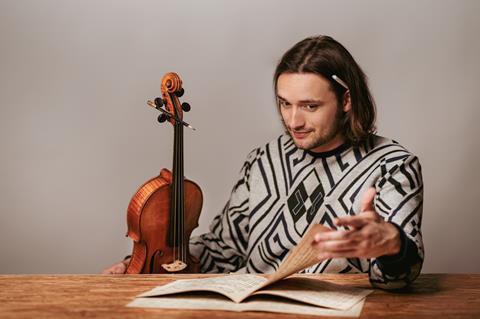 Explore more Featured Stories like this in The Strad Playing Hub
'No one knows how a viola should sound!' - how has this quote informed the choices you made when transcribing these works for viola, in terms of techniques, timbres and register?
This quote by Yuri Bashmet serves as a mantra for every project that I imagine for my instrument. Only since great violists like Lionel Tertis and William Primrose (both great transcribers of the early 20th century) have composers been willing to put more trust in this instrument and to compose more challenging works, while using the full range that the viola can offer.
For my recording projects L'alto Parnassien and Rachmaninoff Stories, I initially chose music that I loved, and then tested their playability with a few playthroughs. Some works did not pass the crash test and were left out, others worked immediately on the viola, and a few were hard to crack almost getting left out of the CD. I believe I learnt the most in these difficult situations. My will to make these pieces work on the viola forced me to find timbres and develop technical skills that I hadn't previously had, in order to sound free in the upper registers.
During my studies, my teacher Tatjana Masurenko would sing and speak in lessons, and sometimes even play the viola between her legs like a cello in order to demonstrate the variety of contact points on the string. It's fascinating to observe how many timbres, colours and articulations are actually within reach on a string instrument when bow speed, pressure and position are being explored to the extreme.
My will to make these pieces work on the viola forced me to find timbres and develop technical skills that I hadn't previously had, in order to sound free in the upper registers
What was the most challenging aspect of transcribing Rachmaninoff's music to viola - particularly for the Prelude for Solo Piano?
In the case of this specific Prelude for Solo Piano, I primarily used Ernst Schliephake's violin transcription, and transposed it a fifth lower while including slight changes in the fingered octave and tenth passages.
I was blown away by F.P Zimmermann's performance of Schliephake's arrangement and became obsessed with the idea of playing it on the viola. I renamed the Prelude for Solo Piano to Capriccio on a theme by Rachmaninoff because the rendition of the piece (especially in its most flowing lyrical passages) had a more martial and virtuosic character than the original.
In Rachmaninoff's Cello Sonata, the challenge is to carry the long phrases and beautiful cantabile over an incredibly rich and dense piano part. When I transcribed this sonata for viola, I found that while the brilliance of the viola might support the themes in upper registers, I had to fight very hard to bring out the lines in the middle and lower registers. In this struggle of register and projection, I found a character that seemed quite close to Rachmaninov's concept of sound.
Tell us about a new discovery you made about your viola during your transcribing process
I actually had some major changes made on my instrument's set-up just ten days before the recording. I got a new bridge, new sound post and lowered my string heights by bending the neck of the instrument. I had never dared to change anything on this instrument since my father gave it to me 15 years ago, but shortly before the recording, felt it was necessary. During the three days my viola was at the 'doctor's', I recall having at least one horrible nightmare in which my viola had lost all of its unique and beautiful characteristics. Thankfully, the result was only an improvement and I adapted quickly to the new feeling of the instrument. But why had I taken this risk?
For the last few years, I had been facing physical challenges playing this unusually large viola. While these challenges frustrated me, I was unwilling to have work done on the instrument for fear of losing its special sound that had charmed me as a child. However, since I could not get close enough to the sound I was imagining, I consulted a fantastic violin maker in Orléans (Bruno Dreux) who confirmed that I would only gain flexibility and ease through having work done on the instrument.
What's your favourite work on the album - if you have one?
My favourite work on the album is, without a doubt, the Cello Sonata. To me, it represents Rachmaninoff's breakthrough out of a creative crisis. To know that even the great composers— who we think of as geniuses—went through periods of intense struggle gives me hope as a performer and artist, as we all go through periods of struggle and frustration with our playing. The sonata is full of gorgeous harmonies, and epic melodies that soar through the viola and piano seamlessly. To me, it represents the peak of the Russian Romantic tradition.
Rachmaninoff Stories will be released with Prospero on 16 September