Carlos Maria Solare reviews a new edition of Ivo-Jan van der Werff's classic handbook of tips and hints for violists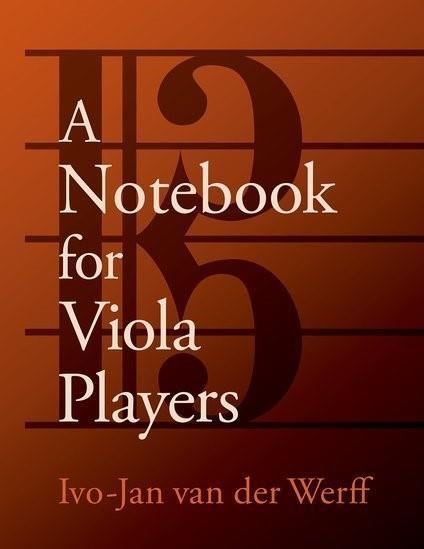 A Notebook for Viola Players
Ivo-Jan van der Werff
144PP ISBN 9780197619445
OXFORD UNIVERSITY PRESS £16.99
From its very first sentence, this book sent me on a trip down memory lane. Ivo-Jan van der Werff studied, as I did, with the great violist and pedagogue Bruno Giuranna, and it's Giuranna's 'exercises, ideas and general philosophy' of viola playing that have inspired this Notebook, alongside several decades' worth of van der Werff's own teaching experience. Relevant anecdotes from the author's rich musical life – set in italics for ease of identification – appear throughout the text. The book's first 20-odd pages are devoted to general advice on practising and performing, before we get down to business. Some hints on posture are necessarily of a very general kind, but they point you to a sound, natural hold of instrument and bow as far as is possible in written form. The next 20 pages feature a thorough workout for the bowing arm, which I remember only too well from my first few weeks in Giuranna's Berlin class. There are few things as healthy for your bowing technique as playing pairs of open strings, alternating between the three possible pairings!
The book's largest chapter – some 70 pages – is devoted to exercises for developing left-hand dexterity. Although I knew most of them, it felt strange to see them in print, as Giuranna never wrote them down: he would explain how they work and leave you to figure them out in your head. He would probably be amused to see his sophisticated scale patterns written out over five pages! Finally, van der Werff gives us some parting words of wisdom that – as he points out – may be 'logical and obvious' but can always bear repeating, as it can be easy to lose sight of the wood because of so many trees! True to its title, at the end of each section this Notebook includes a few pages of blank manuscript paper for readers to take notes and make up their own exercises.
Now appearing under OUP's imprint, A Notebook for Viola Players was first published some twelve years ago. I haven't seen that edition but, according to a review, it was a rather slimmer book and included a DVD in which van der Werff demonstrated his exercises. This time round, a symbol at the appropriate place in the text directs readers to a 'companion website' that includes 40 short clips. As good as his word, van der Werff has taken the trouble of making these videos in front of a mirror, thus allowing the viewer to see him simultaneously from both sides, just as he advises doing when practising. Having now spent several days with his Notebook, I feel like going back to basics and getting some serious work done!
CARLOS MARÍA SOLARE
Reference
Carlos Maria Solare