The New York-based Terra Quartet took home the Grand Prize of $10,000, plus the Gold Medal prize worth $3,500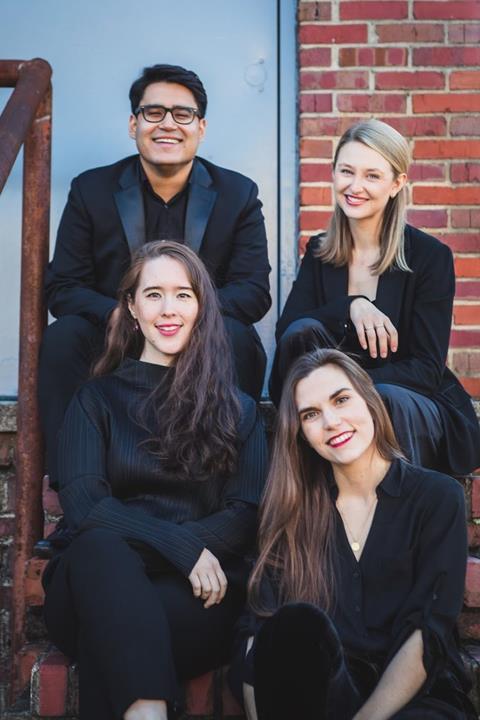 The 49th Annual Fischoff National Chamber Music Competition took place from 20-22 May 2022. Out of 55 competing ensembles from around the world, the New York-based Terra Quartet won the Grand Prize Medal, worth $10,000.
The quartet, the members of which are violinists Harriet Langle and Amelia Dietrich, violist Ramón Carrero Martínez and cellist Geirþrúður Guðmundsdóttir, also won the Gold Medal in the senior string division, worth $3,500.
In addition to prize money, the Terra Quartet will participate in the Fischoff Double Gold Tour of the Midwestern United States in the autumn, along with the winners of the senior wind division, the Mixed Media saxophone quartet. The Terra Quartet's Grand Prize also includes performing several concerts at the Emilia Romagna Festival in Italy in 2023.
The Terra Quartet is composed of graduates from the Juilliard School and the Manhattan School of Music. It was the first quartet selected for the Four Seasons Chamber Music Festival's String Quartet Fellowship initiative at East Carolina University. The quartet is supported by Si-Yo Music Foundation Artists and the members were recent finalists of the 2022 Chesapeake International Chamber Music Competition.
The Silver Medal prize, worth $3,000 went to Trio Ondata, comprising Michael Ferri (violin), Miriam Liske-Doorandish (cello), Anthony Ratinov (piano).
The Pelia Quartet, consisting of Heejeon Ahn (violin), Delphine Skene (violin), Sung Jin Lee (viola), Nathan Cottrell (cello) took home the Bronze Medal prize of $2,000.
In the junior string division, the Gold Medal prize of $2,300 went to the Olive Trio from the Colburn School Music Academy. The Silver Medal of $1,800 went to the Atlanta-based Sycamore Trio, while the Chicago-based Peresson Quartet took home the Bronze Meda prize of $1,300.
Founded in 1973 in South Bend, Indiana, the Fischoff National Chamber Music Competition has grown to become the largest chamber music competition in the United States. Since its founding, more than 7,600 musicians have participated.
The competition is also known for extensive outreach programming during the competition and throughout the year. The Fischoff partners with competition alumni to bring free music programmes directly to children of all ages in schools and community centres. Since 1995, these programmess have served more than 91,500 community children, reaching more than 4,000 underserved and at-risk youth annually.