The Berlin-based ensemble took first prize as well as a host of special prizes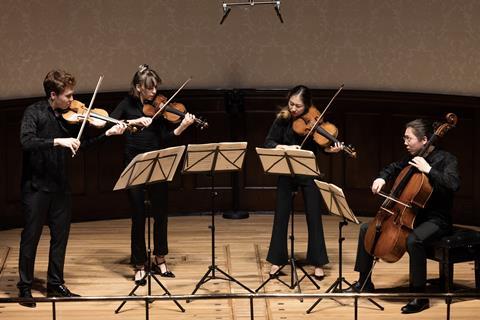 The Berlin-based Leonkoro Quartet took first prize at Sunday night's Wigmore Hall International String Quartet Competition final, held in London. They receive £10,000 donated by the Dorset Foundation.
The quartet also won several special prizes: the Bram Eldering Prize for the best performance of a 19th-century quartet (£1,200), the Sidney Griller Award for the best performance of Sally Beamish's Nine Fragments (£1,000), the Haydn Prize (£1,000), the Alan Bradley Mozart Prize (£1,000) and the Twentieth Century Prize (£1,000).
As first prize winners, the quartet will enjoy guaranteed performance and professional development opportunities, including a recital at Wigmore Hall, residencies at Avaloch Farm Music Institute, Banff Centre for Arts and Creativity, plus places at McGill International String Quartet Academy 2022, ProQuartet Masterclasses, Britten Pears Young Artists Programme in Aldeburgh; as well as concerts promoted by the Esterházy Foundation in Eisenstadt and the Leeds International Concert Season.
Formed in 2019, the quartet is formed of brothers Jonathan and Lukas Schwarz on first violin and cello, Amelie Wallner on second violin and Mayu Konoe on viola. They have recently been signed for general management with Impresariat Simmenauer.
In 2021 they won second prize at the Premio Paolo Borciani International String Quartet Competition, first prize in the Alice Samter Foundation Chamber Music Competition and second prize in the Sound and Explanation Competition held by the German Business Culture Group.
John Gilhooly, Wigmore Hall director and chairman of the jury, said, 'This past week had been an extraordinary celebration of the string quartet, witnessed both by our live audiences in London as well as the thousands of viewers around the world who watched the live stream. The standard of playing fills us with great confidence for the future.'
Second prize of £6000 went to the Adelphi Quartet, while third prize of £3000 went to the Affinity Quartet.
The jury was chaired by Gilhooly and consisted of Jonathan Brown (viola, Casals Quartet) Hélène Clément (viola, Doric Quartet) Simin Ganatra (violin, Pacifica Quartet) Louise Hopkins (cello, head of strings, Guildhall School of Music & Drama) Laura Samuel (violin, leader BBC Scottish Symphony Orchestra and ex-Belcea Quartet) and Kyril Zlotnikov (cello, Jerusalem Quartet).
The competition was initiated in 1979 when the then-unknown Takács Quartet claimed victory. Held every three years, the 2018 competition was won by the Esmé Quartet, with previous winners including the Van Kuijk, Arcadia and Danish Quartets.